After more than a year of learning how to live, work, and learn from home, the housing market is booming. Quarantine might not be the only factor fueling this sellers' market, but keeping people cooped up inside, forcing them to cohabitate with spouses working remotely or children taking classes from home, has certainly been a contributing factor. Suddenly, smaller spaces just aren't cutting it, and the boom in hybrid and remote work means there's more flexibility to ditch the city skyline for a quaint taste of suburbia.
And while there's no guarantee that buying in today's climate will be easy, you should at least try to get what you really want. If the past year has taught us anything, it's that the comfort of home should never be taken for granted.
So the age-old question remains – if you could have any kind of house today, what would it look like? For a look at what's trending in the world of home design and aesthetics, we surveyed over 1,000 people from the U.K and across the pond in the U.S. about building their dream properties. From cottages and modern farmhouses to a zen atmosphere or an industrial build, here's what we discovered people are passionate about today, which features they're most on the hunt for, and how many believe their dream designs are financially attainable in 2021.
Establishing Your Home Aesthetic
When asked to rank their most popular home trends, the overwhelming consensus from both Americans and Britons was clear: Modern farmhouse exterior styles and a rustic modern interior were still the way to go. Around 1 in 5 of the respondents we surveyed said modern farmhouse style was their "dream home." Around 18% chose a rustic modern interior style as their number one choice of interior. Made popular by shows like the HGTV classic, "Fixer Upper," farmhouses typically boast long porches, big kitchens for the entire family, and construction from more natural components. Of course, we're talking about the modern farmhouse aesthetic, which means upgrading the classic design with details of white wood and black trim to make it feel trendy rather than dated.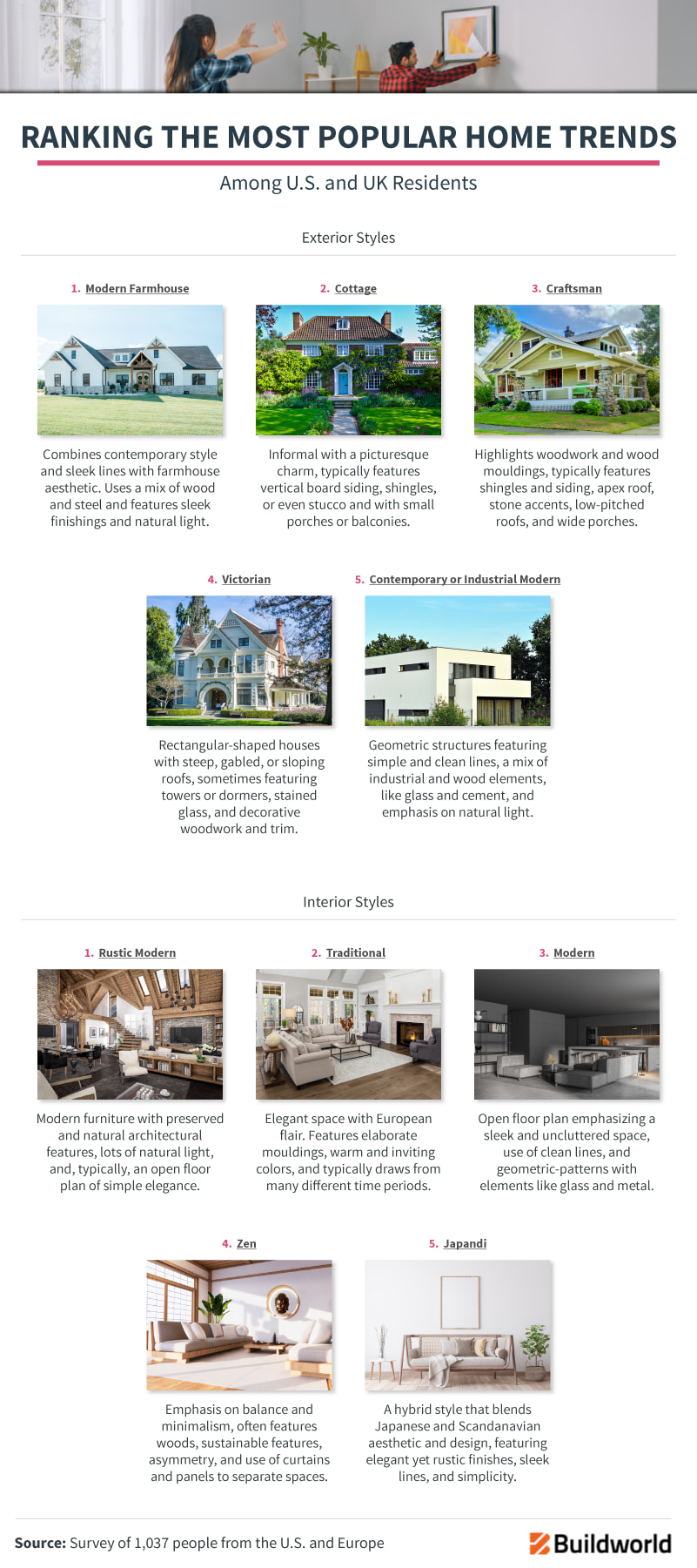 Similarly, the leading interior design trend was a rustic modern take, leaning on modern furniture while emphasizing natural light and the original architectural features of the home. Like the modern farmhouse, a large, open floor plan is an integral part of capturing modern rustic energy. And really, who needs walls?
The rustic farmhouse vibe isn't the only look people are going for, though. Among popular exterior styles, the cottage (with its low-maintenance, picturesque charm), craftsman (woodwork and stone accents), and Victorian-style homes (sloping roofs and stained glass) were top preferences. On the inside, people were also fond of traditional styles (elegant and European), modern designs (heavy use of glass and metal), and Zen designs (balanced and minimalistic) as a blueprint for furniture and decor.
Check out the full breakdown of dream exterior and interior styles here.
Style Preferences by Age
Known for being strong and sturdy, the modern take on the farmhouse home design was the most popular option among Gen Z, millennials, and Generation X. In contrast, we found baby boomers were the most likely to identify the cottage style as their top choice for exterior design and Japandi as their leading preference on the inside. Baby boomers were also the most interested in a tiny home with around 7% saying it would be their dream home followed by 4% of millennials.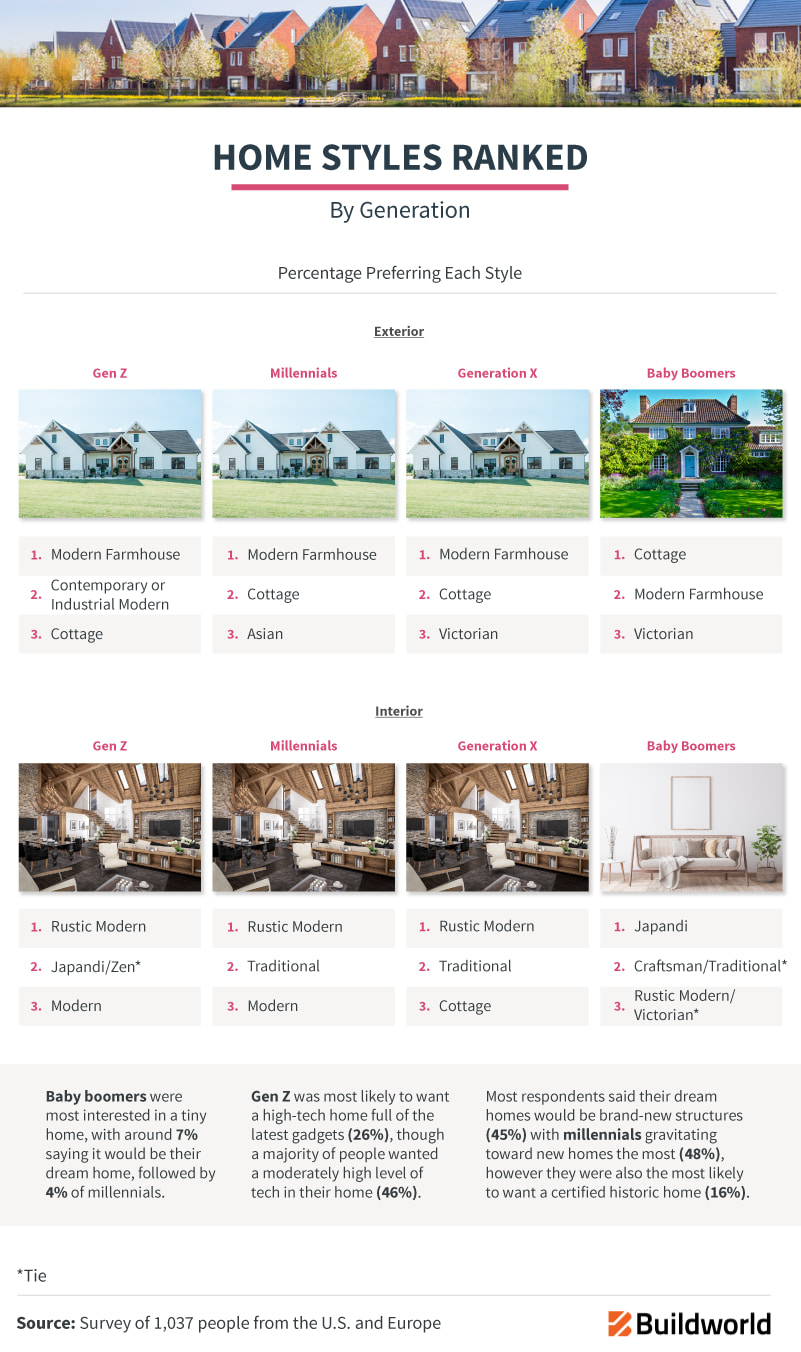 Gen Zers were most likely to want a high-tech home full of the latest gadgets (26%), though a majority of people wanted a moderately high level of tech in their home (46%). No matter how rustic or Zen your overall aesthetic might be, nothing beats asking your personal AI assistant to turn on the dryer for you or to check to see if there's milk in the fridge.
Most respondents said their dream homes would be brand new structures (45%) with millennials gravitating toward new homes the most (48%). Still, millennials were also the most likely to want a historic home (16%). And while it might seem cool to buy something genuinely old at first glance, it's important to remember that historic homes have the potential for a whole host of challenges you might not be anticipating, including more expensive insurance and maintenance repairs.
When it comes to the location of their dream home, our survey respondents were split almost evenly between wanting a home in the city, suburbs, or in a rural area.
34% said their dream home was in a city, 29% said it was in a rural area, and 37% dreamed of living in the suburbs.
UK residents gravitated much more towards rural areas (47%) compared to the U.S. residents surveyed (27%)
39% of millennials said their dream home was in a city, followed by Gen Z and surprisingly, around 1 in 3 baby boomers felt similarly. Rural areas were the least popular for these generations as well.
Bringing Wish Lists to Life
When it comes to buying a house, there are often two major categories to apply to your wish list: need to haves and nice to haves. Some things, the number of bedrooms or the proximity to work or school, might be nonnegotiable. On the other hand, you might have a full list of features you'd love your home to have.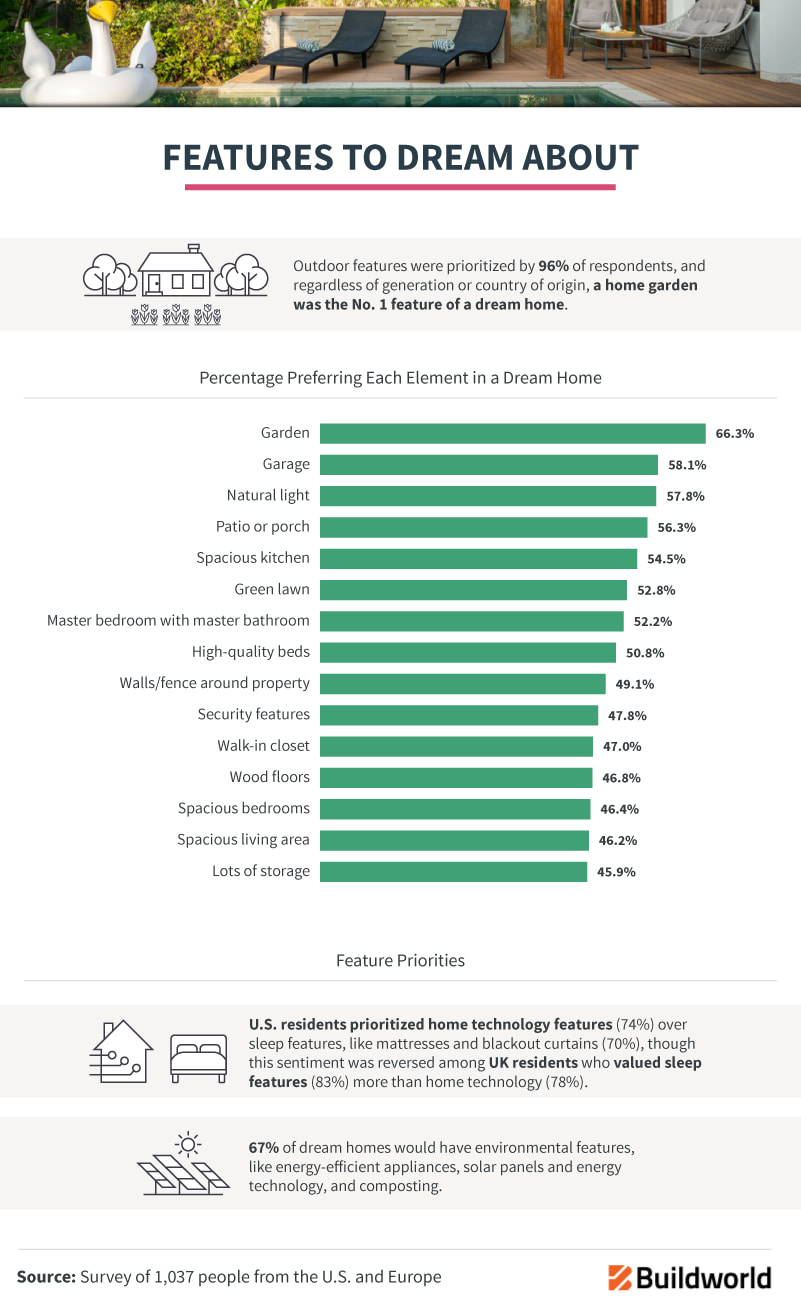 Here are some interesting data highlights from our generational breakdown of home features:
75% of Gen Zers dreamed of a home garden, compared to 64% of millennials 69% of Generation Xers and 68% of baby boomers.
A surprisingly unpopular feature of a dream home for baby boomers was home security features (only 42% desired this for their home). Similarly, only 45% of millennials chose this feature.
For 66% of people from the UK and the U.S., the most popular wish list home feature was a garden, followed by having a garage (58%), natural light in their home (58%), a patio or a porch (56%), and a spacious kitchen (54%). More than half of people also identified longing for a green lawn, a master bedroom with a master bath, and high-quality beds. And while some of those items can be added or renovated after you move in, others (gardens, garages, and lighting) typically need to be a fundamental component of the home before you buy.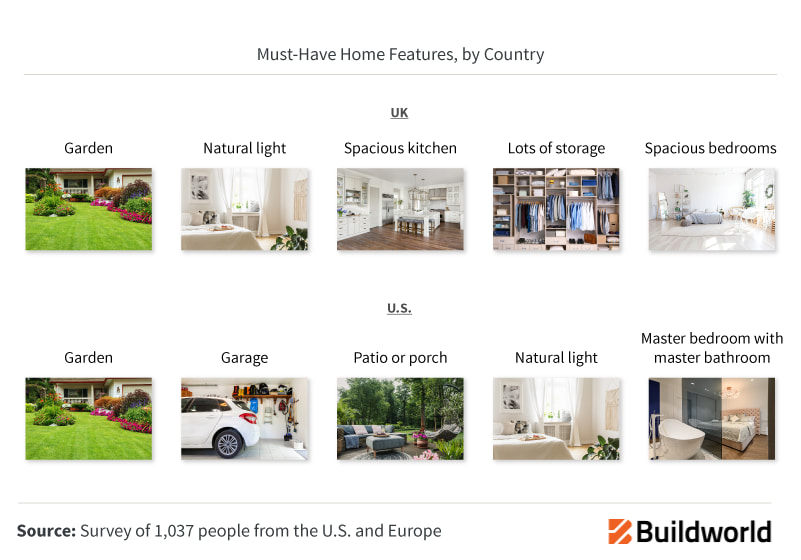 Among both Americans and Britons, having a garden was the top pick for dream features, though in the UK, respondents more commonly identified wanting a spacious kitchen and bedrooms, while Americans were interested in having a garage or patio or porch.
When it comes to outdoor space, Generation X was most likely to choose environmentally-forward features for their dream home (72%), compared to other generations. And even if an outdoor garden or farm is possibly out of reach, younger generations are also much more enthusiastic about house plants these days, which research shows can help calm the nervous system and lower blood pressure. Here are some other interesting findings from our report:
11% of U.S. residents said they preferred to have a small backyard or none at all, compared to just 4% of UK residents. However, the majority of our respondents (54%) said having an acre or more of green space would be the ideal situation.
Over half of Gen Zers (62%) dreamed of having a huge yard, with an acre or more of land, followed by Generation X (55%) and millennials (55%).
Making Their Dreams a Reality
Dreaming is one thing, being able to make your ideal home a reality is something else. One in 3 people surveyed said they believe their dream homes are financially attainable. When asked how much they expected their dream home would cost, UK respondents said slightly less than £2.5 million, while those in the U.S. reported needed closer to $3.6 million to buy the property of their dreams. Despite Americans dreaming of homes worth much more on average, 35% said their dreams were attainable, compared to just 10% of those from the UK.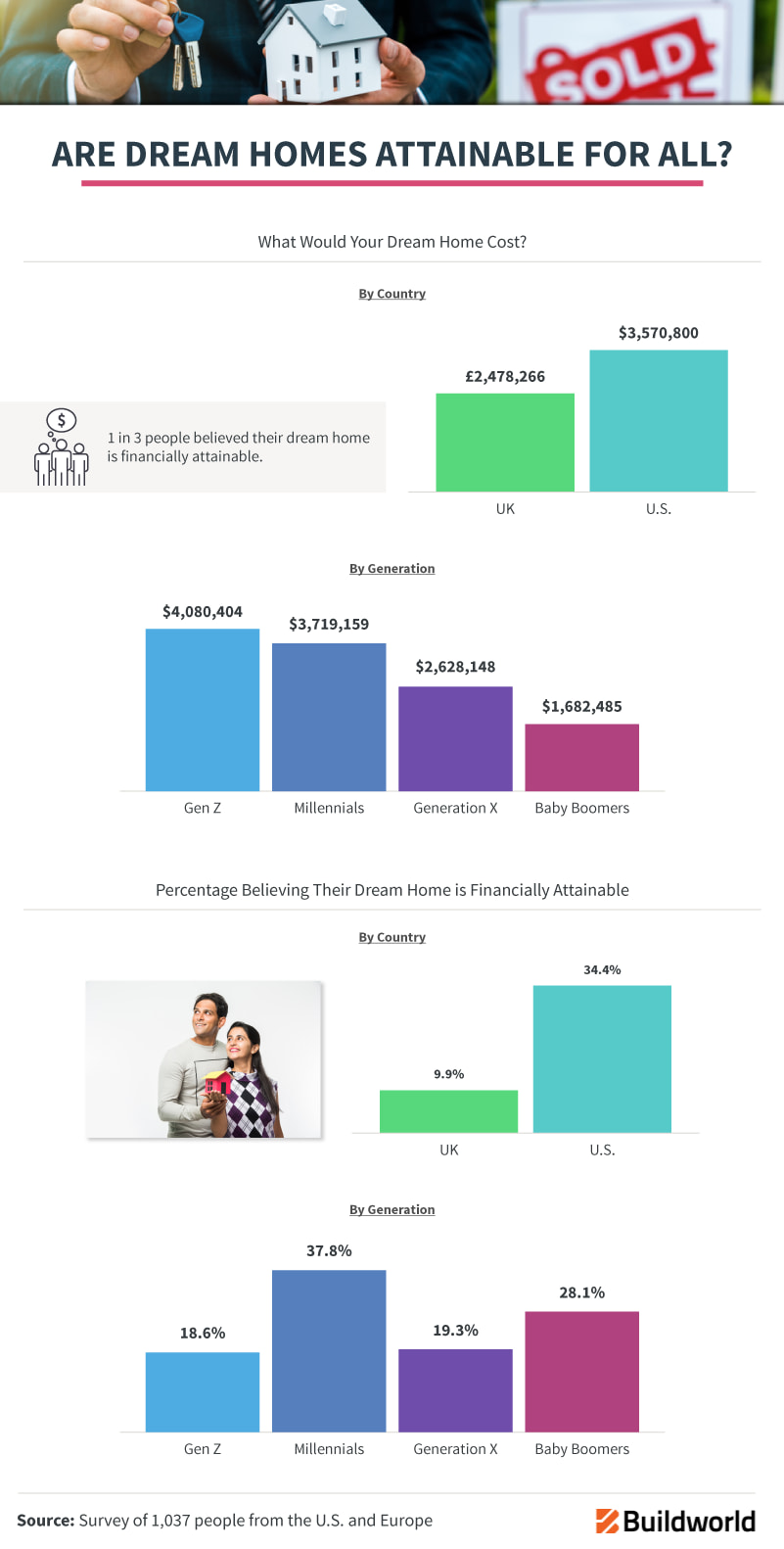 Generation Z respondents had the biggest appetite for high-value homes, averaging a dream design costing nearly $4.1 million, more than millennials ($3.7 million), Generation X ($2.6 million), and baby boomers ($1.7 million). Despite dreaming of a home worth multiple millions, almost 38% of millennials believed their fantasy residences could be a reality some day.
Making Your Home Goal-Worthy
Over the last year, people have had a lot of time to think about the feature options they wished their homes had. From a modern farmhouse construction or a rustic interior makeover to a garden or a garage. But with dreams worth millions, only a fraction of people felt they'd ever actually be able to afford their lofty homestead goals. Still, that doesn't mean you might not be able to consider the option of renovating your existing space to make some of those dreams a reality.
At Buildworld, we're passionate about connecting people with quality building materials, roofing windows, doors and windows and tools and hardware at competitive prices they can trust. With a wide selection of products to meet all your building and construction needs, we make finding what you need possible in just a few clicks with prompt delivery and reasonable prices. Ready to start shopping for the best-known brands in homewares? Visit us online at Buildworld.co.uk today!
Methodology and Limitations
We surveyed 1,037 respondents in the United States, United Kingdom, and other European countries in order to explore what preferences people had when asked to build their dream home. Respondents ranged in age from 18 to 71, with 10% identifying as Generation Z, 62% as millennials, 22% as Generation X, and 6% as baby boomers. Around 66% of respondents were from the U.S., while 19% were from the UK. 15% of respondents were from other European nations, such as Italy, France, and Germany, but were not included in country-specific analyses due to low sample sizes.
Survey data has certain limitations related to self-reporting. These limitations include telescoping, exaggeration, and selective memory. We didn't weight our data or statistically test our hypotheses. This was an exploratory study of how people would build their dream homes.
Fair Use Statement
Want to keep the dream alive? We encourage you to share this report with your readers for any noncommercial use with the inclusion of a link back to this page in your story as credit to our incredible team of creative contributors who made this analysis possible.