Experts say the full economic impact of the COVID-19 pandemic may take years to fully understand, and even the effects of the virus on our physical health may not be completely recognised until after the pandemic has passed. On the other hand, the effects of isolation and quarantine on our mental health have been easily recognised and often discussed.
With so little time spent anywhere but home, a place where you might be working, entertaining children, managing at-home schooling, and still trying to find a way to relax, the number of people you interact with on a daily basis may have decreased significantly. Without having co-workers to fraternise with or being able to hang out with friends through anything but Zoom or social media, your nearby neighbours might be looking more appealing than ever before as a source of human connection.
So how do we feel about our neighbourhoods during the COVID-19 pandemic, and are we spending more or less time getting to know our neighbours? To find, we surveyed over 1,000 people regarding how their outlook on their neighbourhoods has changed in the last year. Read on as we explore what people value most about where they live; how well they've gotten to know their neighbours during the pandemic; and how much they've worried about contracting COVID from the people who live around them.
Friendly Neighbourhood Homebodies
These days, there really is no place like home. With limited options for recreational entertainment in public spaces and the continued importance of social distancing and self-quarantining, people are spending more time at home than ever before. And while 72% of people surveyed said there'd been no change in the outlook they have on their neighbourhood, 17% said they felt more positively about their local community than before the health crisis.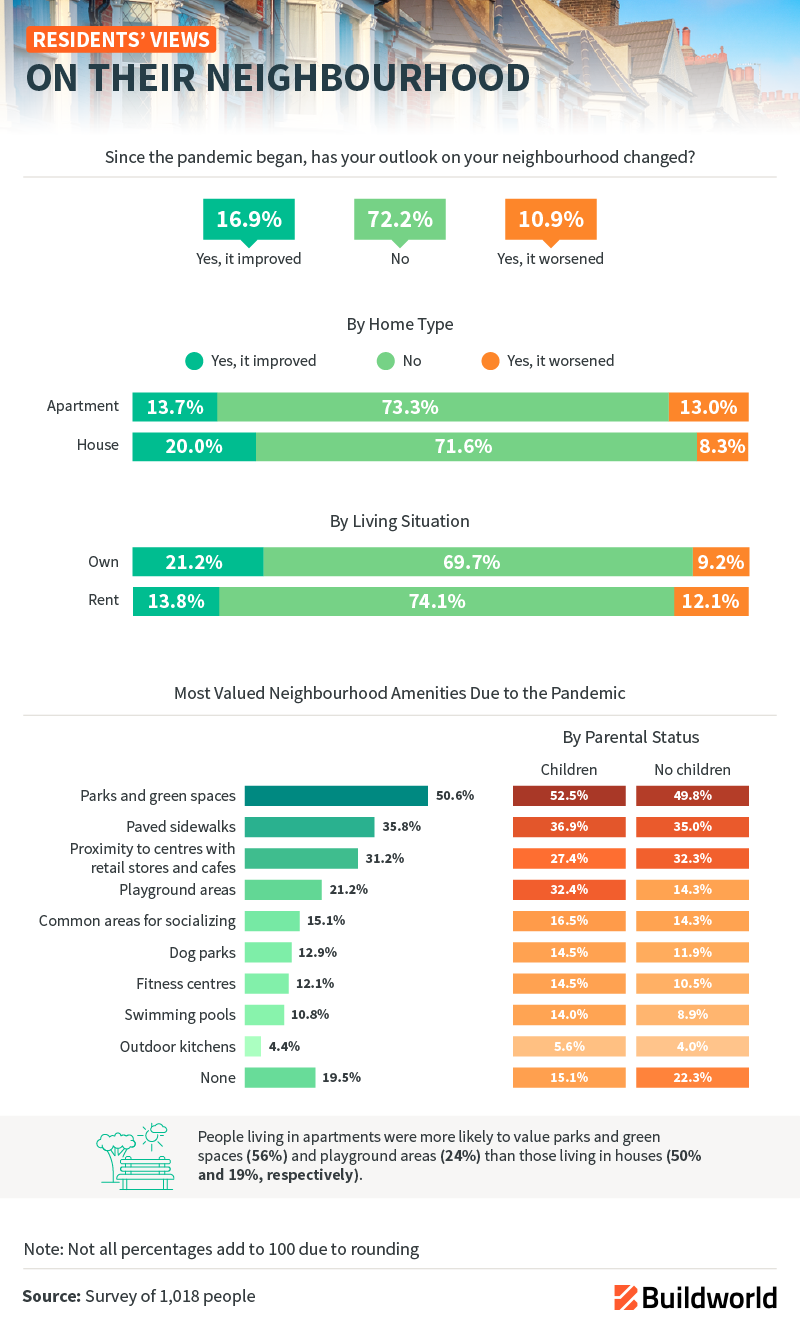 People living in houses (20%) were more likely to say that their impression of their neighbourhood had improved, compared to those living in apartments (14%). People who owned their homes (21%) were also far more likely than those who rented (14%) to feel their local community had improved since the COVID-19 pandemic began.
For many, the value of home was increased by having more outdoor space to enjoy. During the pandemic, people's most valued neighbourhood amenities were parks and green spaces (51%), paved sidewalks (36%), close proximity to retail shops (31%), and playground areas (21%). As we found, respondents with and without children were nearly equally as likely to highly value parks and green spaces and paved sidewalks in their neighbourhoods. People living in apartments were even more likely to value parks and green spaces or playgrounds, compared to people living in houses.
Greener on the Other Side
With fewer options for contact with the outside world, respondents surveyed reported being more likely to know their neighbours extremely well (5%) or very well (23%) during the pandemic, compared to knowing them extremely (4%) or very well (20%) before COVID-19's onset.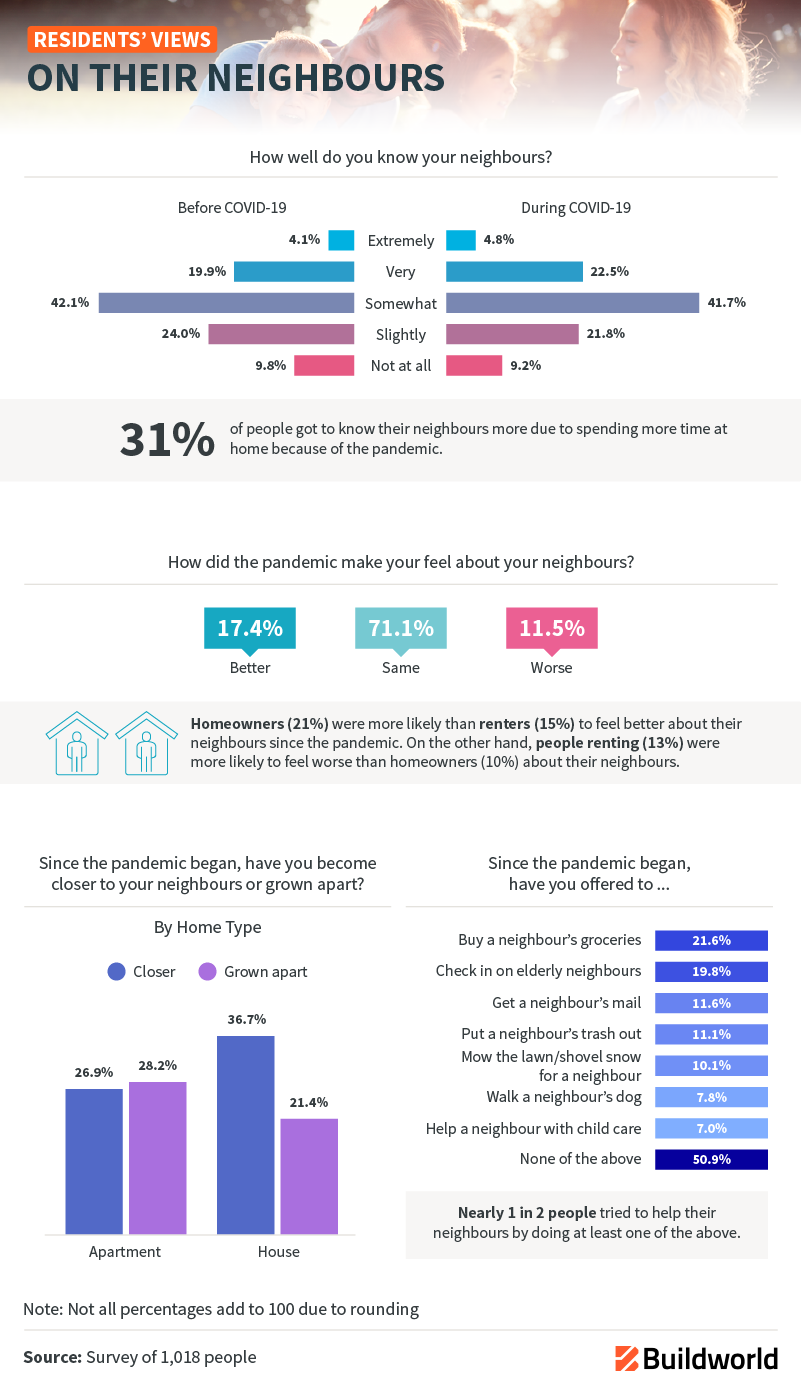 Thirty-one per cent of people said they got to know their neighbours more in the past year because they were spending so much time at home during the pandemic. And while 71% of people felt the same about the people living around them as they did before COVID-19 began, 17% said they felt better about their neighbours than before.
Compared to 37% of people living in houses who felt closer to their neighbours since the pandemic began, people living in apartments were slightly more likely to report having grown apart (28%) rather than having grown closer together (27%). The strain of the pandemic may have inspired people to go above and beyond for their neighbours in new ways. Twenty-two per cent of people offered to buy their neighbour's groceries since the start of COVID-19, followed by 20% who checked in on their elderly neighbours and 12 per cent who checked a neighbour's mail.
Keeping Their Distance
People surveyed also said that their neighbours were more likely to follow social distancing guidelines than not. Twenty per cent of people said all of their neighbours followed COVID-19 guidelines, and another 45% of people said most of their neighbours adhered to proper social distancing guidance. Just 25% of people said only some of their neighbours followed COVID precautions, and even fewer said the same for less (7%) or none of the people living around them (3%).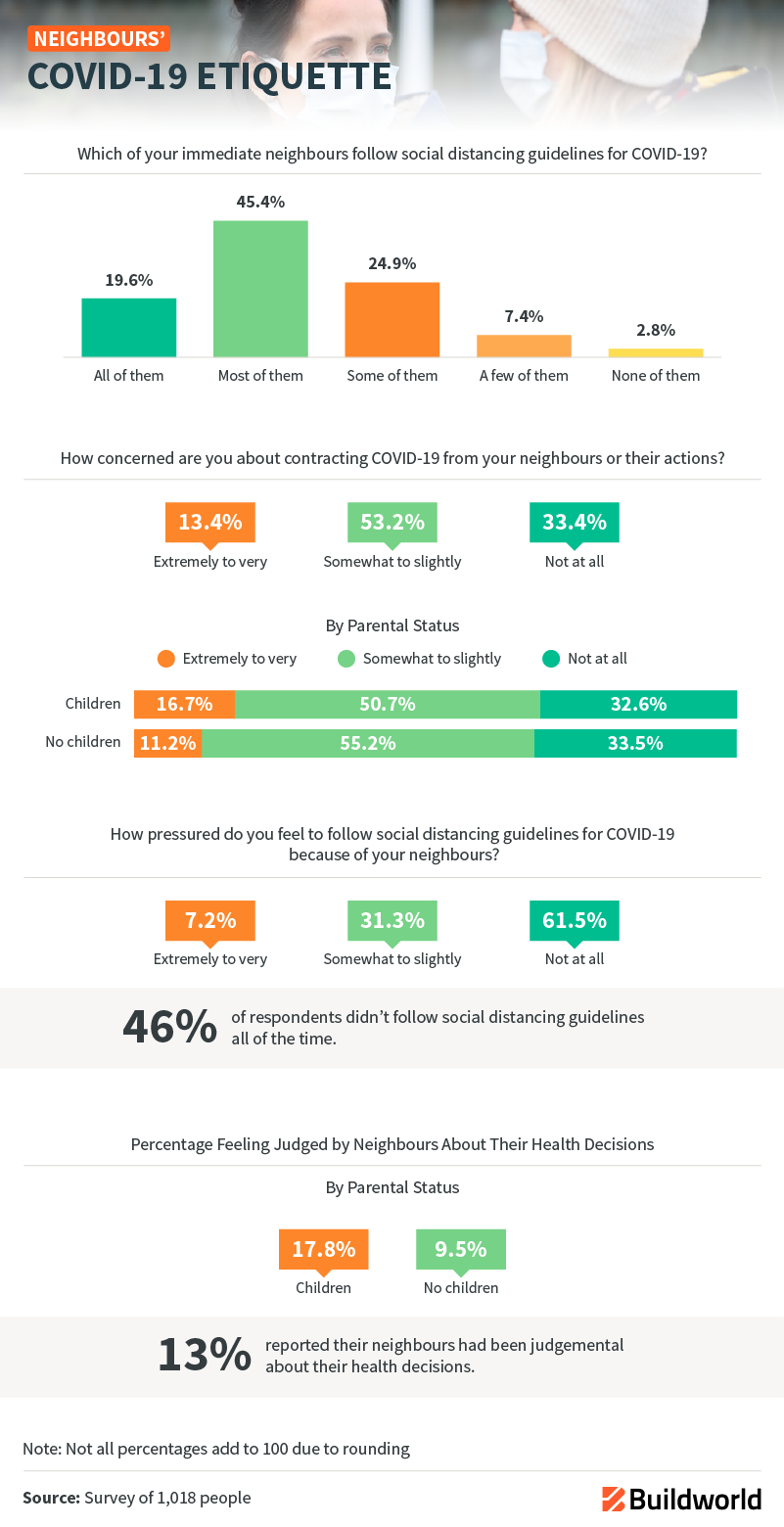 Although 53% of people were somewhat or slightly worried about contracting COVID-19 from their neighbours, 33% said they weren't at all concerned. People with children at home (17%) were more likely to be extremely or very worried about getting COVID-19 from their neighbours, compared to those without children (11%). Forty-six per cent of people admitted they didn't personally follow social distancing guidelines at all times, and 62% said they didn't feel at all pressured to social distance from the people they lived around.
Thirteen per cent of people also said the neighbours were judgemental about their health decisions, including 18% of neighbours with children and 10% of neighbours without children at home.
Local Cases of the Pandemic
Across the UK, there have been over 4 million documented cases of COVID-19. Eighteen per cent of people surveyed reported at least one neighbour who had been diagnosed with COVID-19. Forty-three per cent of people were unsure if someone living around them had contracted the virus. Among those who knew a neighbour diagnosed with COVID-19, 24% said they were exposed to the virus, and another 7% were unsure.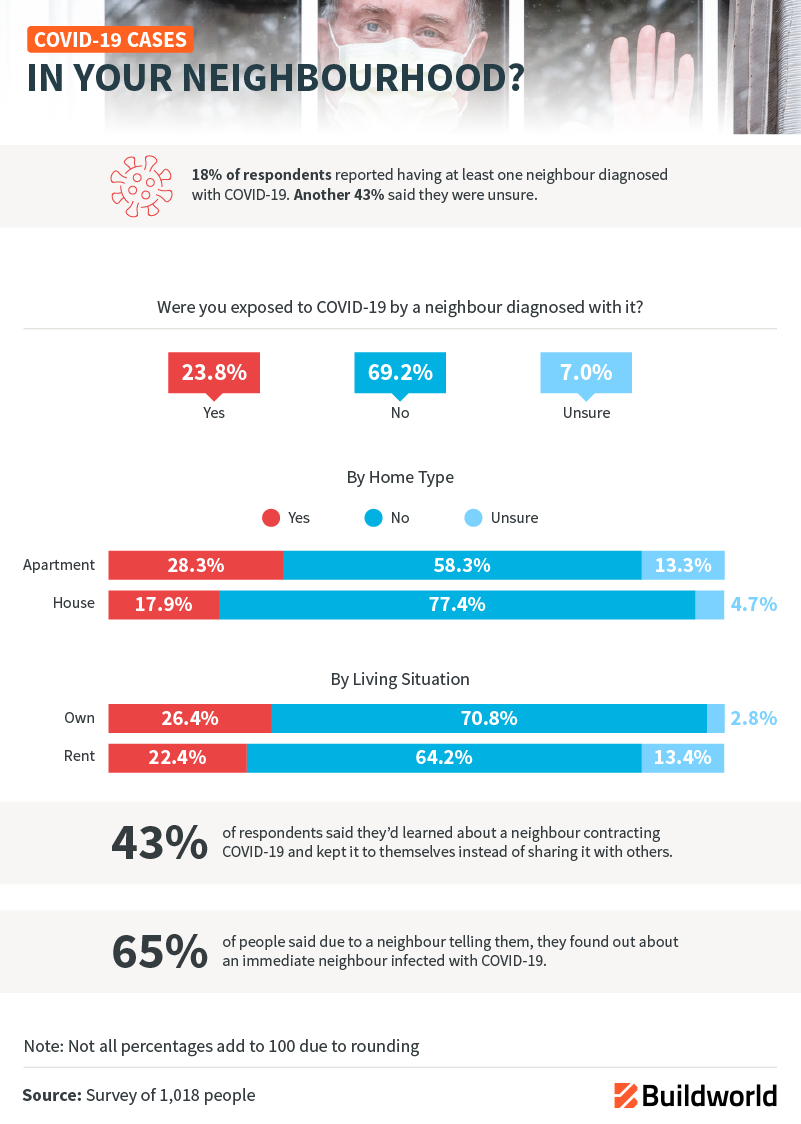 People living in an apartment (28%) were more likely to get exposed to COVID-19 from a neighbour who also tested positive for the virus, compared to people living in houses (18%) and were also more likely to be unsure if they got COVID-19 from a neighbour (13%).
Forty-three per cent of people surveyed admitted to keeping the knowledge of a positive COVID-19 case in their neighbourhood to themselves rather than spreading the news. Sixty-five per cent said they had to hear about a positive COVID-19 case in their neighbourhood from someone other than the impacted party.
Loving Where You Live
The effects of a global pandemic mean many people are spending more time at home than they're used to, and having nearby access to parks and green spaces is even more valuable than ever before. While most people had the same opinion or relationship with the people that lived in their neighbourhoods, others reported getting to know their neighbours better as a result of COVID-19. Many even went out of their way to check in on elderly neighbours, help others buy groceries, or even do something as simple as check their mail.
If you're spending more time at home, you should love where you live. At Buildworld, our mission is to connect people with quality building materials at competitive prices they can rely on. With a wide selection of products such as roof windows, internal doors, external doors, cement mixers, and cements, we make finding what you need possible in just a few clicks with prompt delivery and reasonable prices. Ready to start shopping for the best-known brands in homewares? Visit us online at Buildworld.co.uk today!
Methodology and Limitations
We surveyed 1,018 people who either own or rent the place they currently live in. Among them, 511 were from the U.S. and 507 from the UK/EU. 51.2% of respondents identified as men, 48.2% identified as women, and 0.6% identified as non-binary. Respondent age ranged from 22 to 62 years old with an average age of 37.
For short, open-ended questions, outliers were removed. To help ensure that all respondents took our survey seriously, they were required to identify and correctly answer an attention-check question.
These data rely on self-reporting by the respondents and are only exploratory. Issues with self-reported responses include but aren't limited to exaggeration, selective memory, telescoping, attribution, and bias. All values are based on estimation.
Fair Use Statement
Want to be neighbourly and share these findings with your readers for any noncommercial use? We're happy to share! Just make sure to include a link back to this page as credit to our contributors for their work on this report.