One year since the global COVID-19 pandemic began and the economy is still in the process of recovering after months of shutdowns, social distancing, and lockdown protocols. With millions of people still working remotely, the time has never been better for fleeing the high rent of big cities in favor of lower rents elsewhere or even homeownership.
And for renters in the UK who still need another reason to consider buying their own homes, the cost of homeownership is expected to fall in 2021 as a result of continued unemployment and the global economic impact of the pandemic. Across the pond, the outlook of the housing market isn't as promising, with U.S. housing prices expected to rise by nearly 6% in the new year.
Whether housing prices are increasing or going down, there's a crucial decision buyers have to consider: Should they buy a more expensive turnkey home that's move-in ready or save money by investing in a fixer-upper that needs some TLC? To find out, we surveyed nearly 1,200 people in the UK and the U.S. about their homebuying preferences. Read on as we explore which type of homes are the most popular in 2021; how many people are happy with fixer-uppers versus turnkey homes; how often turnkey-ready homeowners are doing renovations anyway; and how much money buyers are spending to create the home of their dreams during COVID-19.
Planning for Home Purchases During COVID-19
Since the pandemic began, people have been more interested in buying turnkey homes, ready to move in and with minimal repairs needed. Only a small percentage of respondents say they're equally as interested in a house in need of repairs as they are a house that's ready to move in.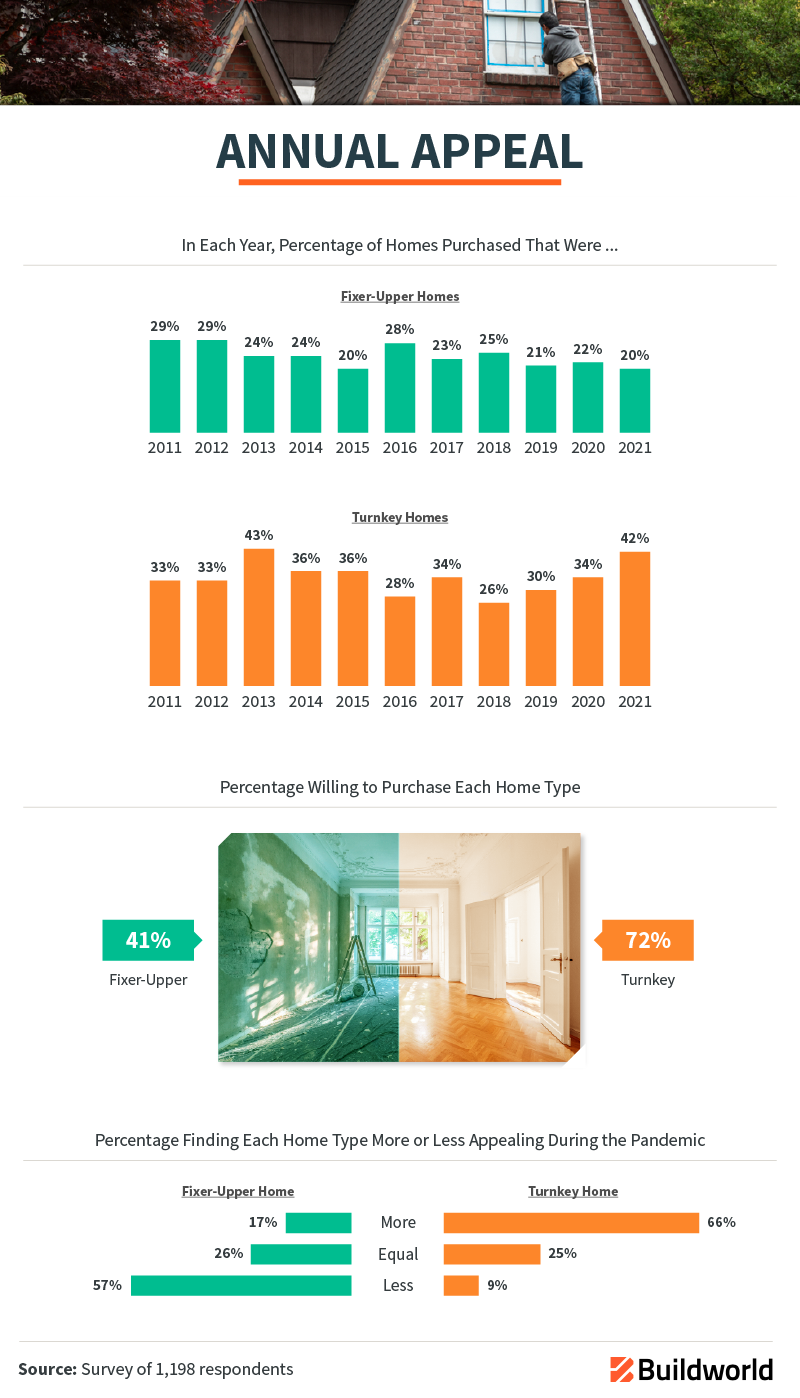 Deciding whether to buy a fixer-upper that requires hiring an expert to renovate (or getting your own hands dirty) versus buying something that's move-in-ready can be a complicated decision. On the one hand, turnkey homes will save you time, and you won't have to worry about the unexpected costs of repairs and renovations. On the other hand, fixer-uppers can save you a tremendous amount of money by lowering the cost of your home while still giving you the opportunity to personalize and perfect elements of the space to your tastes. Ultimately, the decision comes down to money, time, and your personal level of skill in regard to desired repairs or cosmetic improvements.
In 2021, 42% of homeowners told us they purchased a turnkey property, compared to 20% who said they purchased a fixer-upper. Compared to 2020, the percentage of people buying move-in ready homes increased by 8 percentage points, from 34% to 42%. In the time of COVID-19, with so much uncertainty around the economy, and with millions of people still working from home, 72% of respondents said they would be willing to purchase a turnkey home, and just 41% said they would be willing to buy a fixer-upper property. Sixty-six percent of people said they found turnkey homes more appealing during the pandemic, while 57% said they were less willing to consider a fixer-upper purchase.
Homebuyer's Remorse?
People who buy fixer-uppers are just as likely to be happy with their purchases as those who buy move-in-ready homes, but the reasons why couldn't be more different.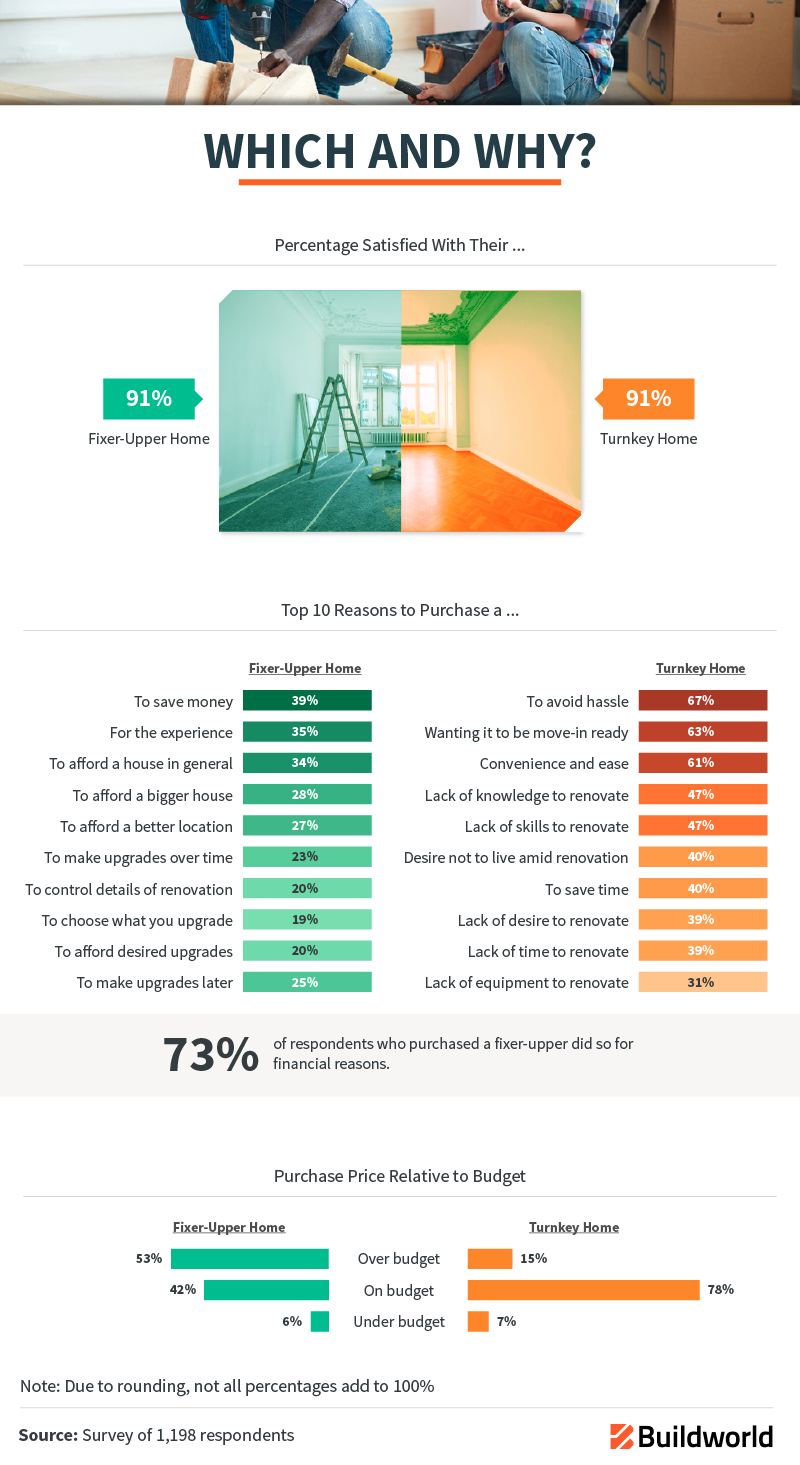 As we found, homeowners were equally as likely to be happy with buying a fixer-upper property (91%) as a turnkey home (91%), but for entirely different reasons. Among those opting for a home that still needed some work, the most common reasons for purchasing were to save money (39%), for the experience (35%), to afford a house in general (34%), and to afford a bigger home (28%). Overwhelmingly, 73% of people who purchased a fixer-upper home said they did so for financial reasons.
In contrast, those people purchasing a move-in-ready home said they wanted to avoid the hassle of a fixer-upper (67%), wanted something that was turnkey ready (63%), appreciated the convenience and ease (61%), and lacked renovation knowledge (47%).
Despite possibly being more budget-conscious, 53% of people buying fixer-upper homes said they exceeded their budgets, compared to 15% of those buying turnkey homes. Just 42% of homeowners buying a fixer-upper said they were able to stay within budget, in contrast to 78% of those who purchased move-in-ready homes.
Unexpected Renovations
A vast majority of people find the process of repairing or renovating a fixer-upper isn't exactly what they expected.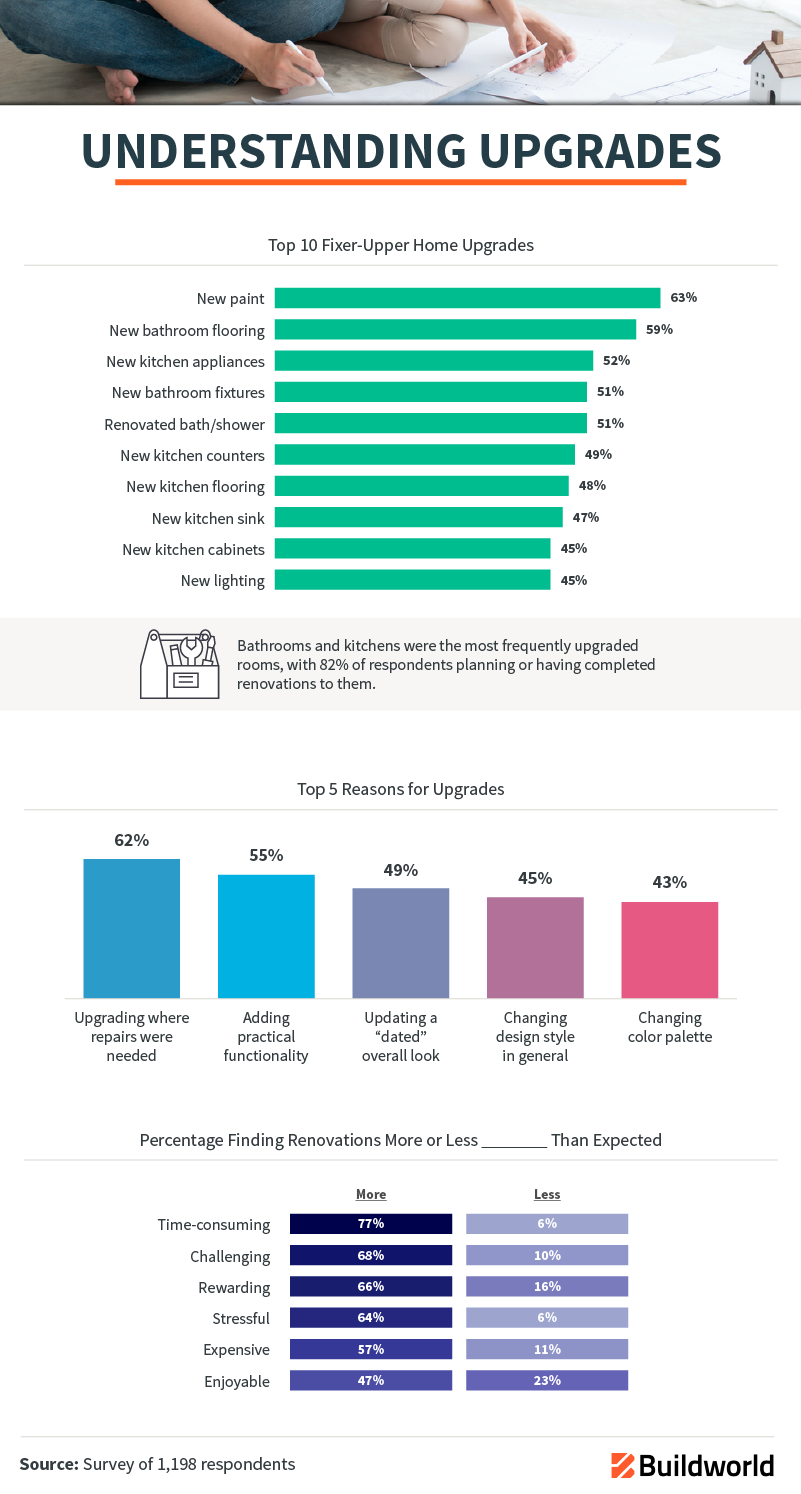 The cost you assume to take on a fixer-upper home is largely dependent on the amount of work that will need to be done to it. While you may, of course, encounter some unexpected expenses along the way, being able to clearly map out exactly what needs to be "fixed up" will help you determine if buying a house that needs work is right for you.
Most commonly, fixer-upper home upgrades included new paint (63%), new bathroom flooring (59%), new kitchen appliances (52%), and new bathroom fixtures (51%). While less common, homeowners also told us they put in new kitchen counters (49%), and new kitchen flooring (48%) after they bought a fixer-upper home. Echoing this data, we found homeowners were equally as likely to renovate a bathroom (82%) as they were their kitchen (82%).
When deciding to purchase a house that still needed renovations, upgrades were most commonly needed to update the overall dated look of the home (62%), upgrade where repairs were needed (55%), or add more practical functionality to the home (49%). Still, sometimes fixer-upper homes are far more work than anticipated. Not only did 23% of people say the renovations process was less enjoyable than expected, many said it was more time-consuming (77%), more challenging (68%), more stressful (64%), and more expensive (57%) than they'd planned for.
Underestimating a Fixer-Upper
Almost all fixer-uppers require some kind of major repair or renovation according to the people surveyed, often amounting to thousands of dollars on top of the cost of buying the home in the first place.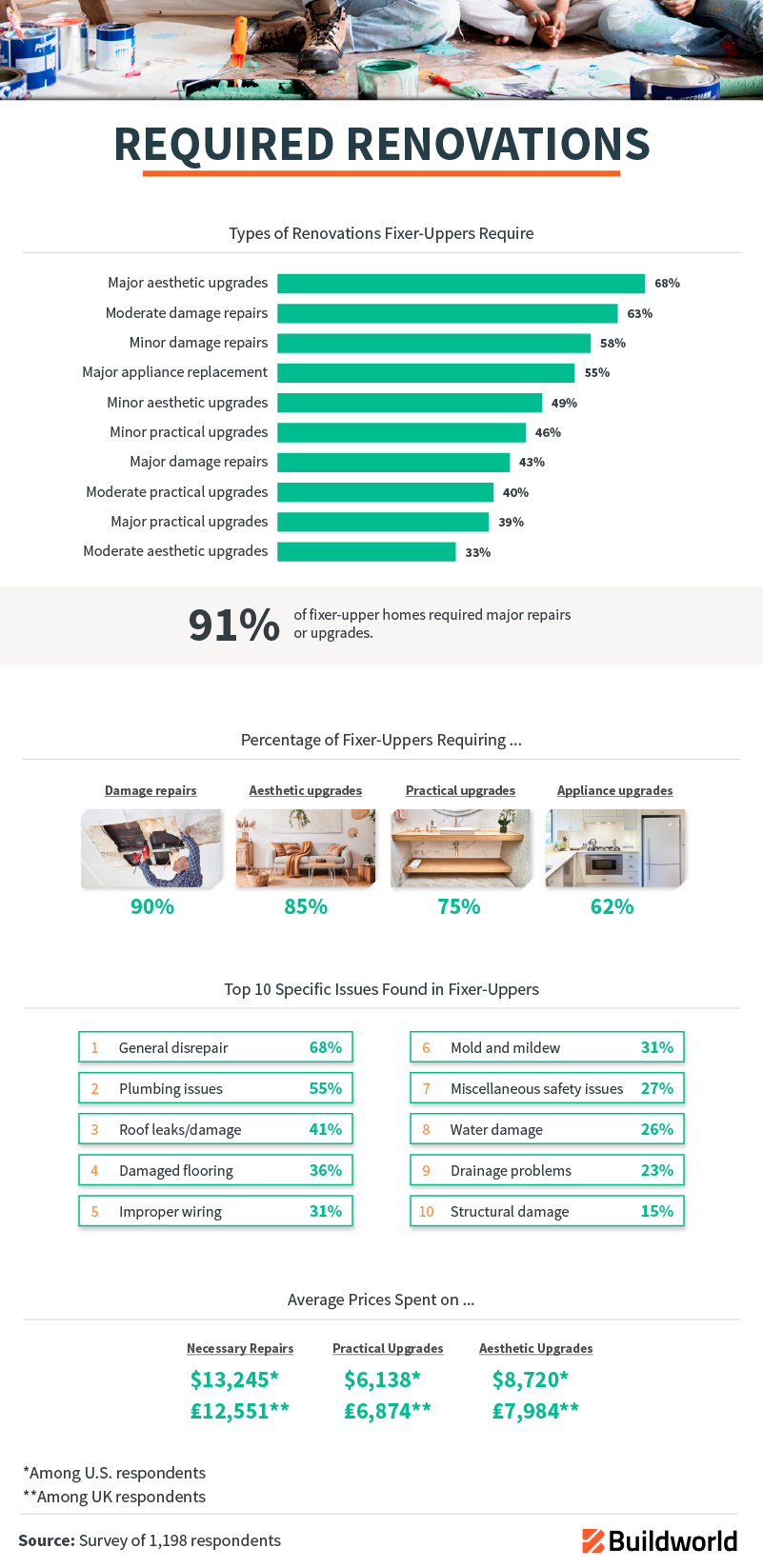 Most fixer-upper homes aren't focused entirely on cosmetic upgrades. Ninety-one percent of people said their homes required major repairs or renovations when they purchased a fixer-upper home, including serious aesthetic upgrades (68%), repairing moderate damages (63%), repairing minor damages (58%), and replacing major appliances (55%). Most commonly, fixer-uppers required homeowners to repair damages (90%), pay for aesthetic upgrades (85%), and apply practical upgrades (75%) around the home.
The most common issues concerned general disrepair (68%) and plumbing problems (55%), followed by roof leaks and damages (41%), damaged flooring (36%), improper wiring (31%), and mold and mildew (31%). On average, homeowners spent $13,245 on necessary repairs in the U.S., and £12,551 in the UK. Aesthetic upgrades were typically less costly, averaging $8,720 in the U.S. and £7,984 in the UK.
Planning for Home Improvements
In the time of COVID-19, people are far more excited about buying turnkey homes than investing in projects that will require months, if not years of work to repair and renovate. Perhaps this is for the best, as people buying fixer-uppers were far more likely to exceed their homebuying budgets and often reported putting in more time, work, and money than they originally expected to finish renovations.
At Buildworld, we're passionate about helping you find the tools, internal doors, external doors, roof windows and resources you need for your building and construction projects, all in one place. With the best brands in stock and prompt online delivery, the perfect solution for your renovation needs is just a few clicks away. Even better, we'll make sure you get the best prices on everything you need to make renovations a dream, whether it's to a newly acquired fixer-upper or making changes to your current home. Start shopping online at Buildworld.co.uk today!
Methodology and Limitations
We surveyed 1,198 respondents from the United Kingdom and United States. Respondents were selected for a variety of criteria related to their homebuying and homeownership experiences. Among our respondents, 522 were from the United Kingdom, and 676 were from the United States. Our respondents ranged in age from 18 to 77 with an average age of 44. Not all respondents were queried regarding their gender. Among the 483 respondents who were asked to report their gender, 233 were female, 249 were male, and one identified as nonbinary.
These data rely on self-reporting, and potential issues with self-reported data include telescoping, selective memory, and attribution errors. In order to help gather accurate responses, all respondents were required to correctly respond to a decoyed attention-check question. Questions and answers have been paraphrased or rephrased in some cases for clarity or brevity.
Fair Use Statement
Are your readers contemplating buying a home in 2021? Help share these findings between turnkey buying and fixer-uppers for any noncommercial use with the inclusion of a link back to this page as credit to our contributors for their work.