>
The notion of using art to design or inform a space implies that the design of an entire room, from its exterior to its interior decor, can be based on a piece of art. But what if we could reimagine a home through the eyes of the artist themselves? And what would happen if we could take iconic art and meld it with iconic fictional homes?
In books, in movies, and on TV, the fictional homes of our favorite characters take on a life of their own. What is "Friends" without the iconic apartments of Monica, Rachel, Joey, and Chandler? On "The Simpsons," what are Homer, Marge, Lisa, and Bart without the house captured in the show's unforgettable opening sequence?
While it's fun to think about these homes exactly as we remember them, it's also fun to re-imagine them in completely new ways, too. Our artists have done just that, mashing up seven of the most iconic fictional homes in pop culture (including those from "The Fresh Prince of Bel-Air," Harry Potter, "SpongeBob SquarePants," and "Downton Abbey") with world-renowned art styles from Bob Ross, Banksy, Frida Kahlo, and more. Want to see what they've envisioned or how those fictional homes might be different than you recall? Let's dive in.
Frida Kahlo's Take on Monica's Living Room From "Friends"
On "Friends," Monica's apartment was notoriously neat and tidy but can now be seen through the lens of Kahlo's bright and colorful palette, specifically in the iconic blue of Frida's own home, Casa Azul. The walls have taken on that unmistakably bright blue hue with forest green drapes over the window and a portrait of Kahlo's own likeness behind the TV.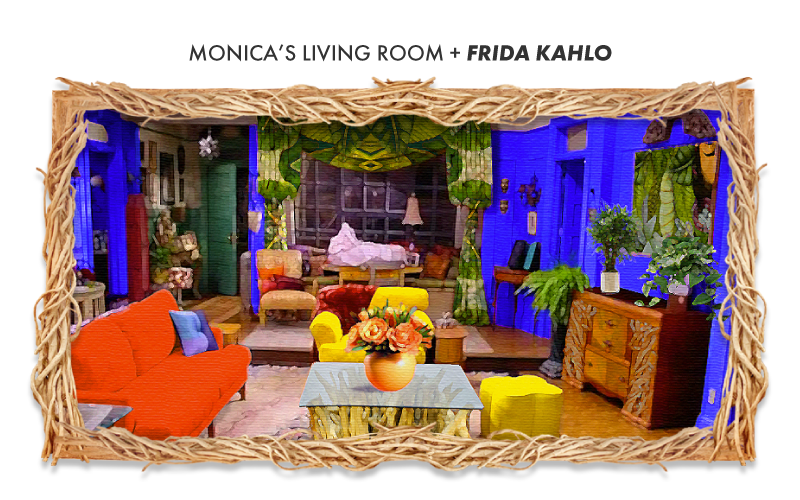 Find more images of Monica's apartment here, and the works by Frida Kahlo that inspired this interior.
The Fresh Prince's Mansion Foyer Meets Kehinde Wiley
Kehinde Wiley, most famous for his iconic portrait of President Barack Obama, taps traditional European portraiture style to celebrate African American culture and infuse it into the historical and cultural narratives that would otherwise omit them. It is almost as if his portraits always belonged hanging on the walls of the stately and old-world Bel-Air mansion. Without losing any of its stately disposition, the foyer in "The Fresh Prince of Bel-Air" home receives a slightly more modern update under Wiley's themes. The wallpaper has a new red and patterned tone similar to the bright background in Wiley's paintings, the furniture has updated coloring, and a piece of art on the wall has been replaced with Wiley's work.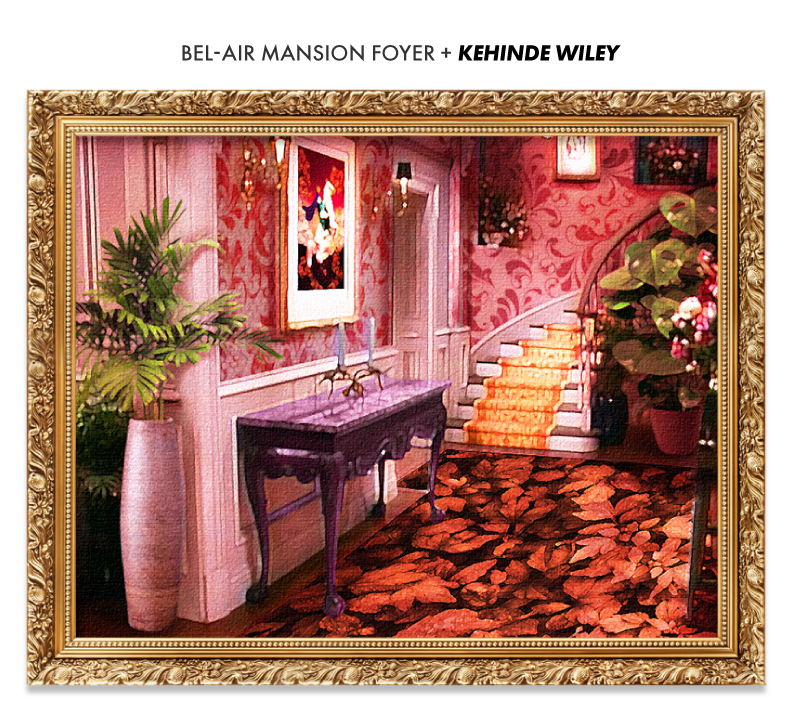 See the Bel-Air mansion foyer here, and the Kehinde Wiley painting that inspired its interior.
The Weasley Home, the Burrow, Reimagined by David Hockney
English painter David Hockney's clean lines, vibrant colors, and sense of perspective in works like "A Bigger Splash" would undoubtedly have fun with the planes and architectural oddity of the Weasley family home, the Burrow, in Harry Potter. While previously having been depicted as rundown or aged, the Burrow now feels completely new again under Hockney's artistic likeness. The noise of the surrounding forest fades away to leave clean lines and blue sky, helping the Weasley family home feel less cluttered and overwhelming than it's portrayed in the Harry Potter films. Despite the complete change in theme, it's still possible to imagine the Burrow as a magical family gathering place, though in a slightly different dimension.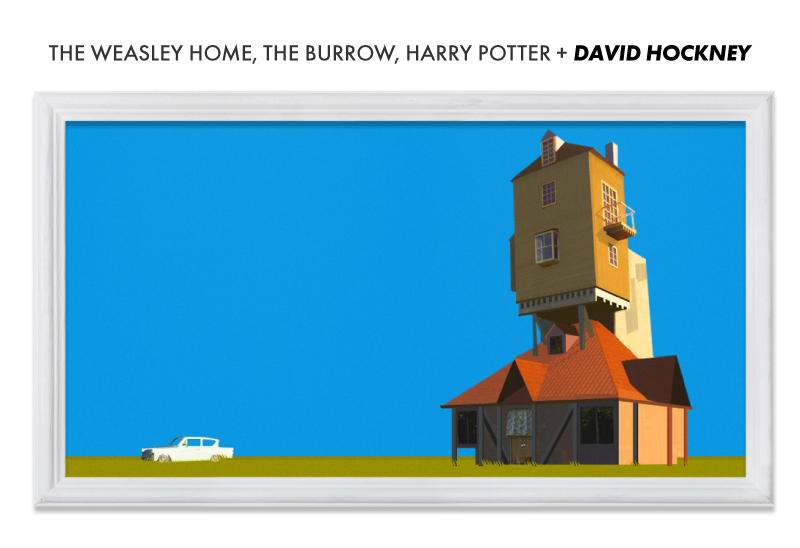 Check out more scenes from The Burrow as well as the Hockney piece we used to create our mashup.
SpongeBob's Neighborhood, Bikini Bottom, and Yayoi Kusama
Avant-garde artist Yayoi Kusama's dot-covered paintings and motifs would be at home on the gourd-like shapes of the homes in SpongeBob SquarePants' Bikini Bottom. Not too far from the famous dotted pumpkins Yayoi paints with varying sized dots, Bikini Bottom's homes present as a glowing Kusama pumpkin exhibit under the sea. Kusama's iconic art style is perhaps so suited to the whimsy of Bikini Bottom that you might not even notice the changes on first glance.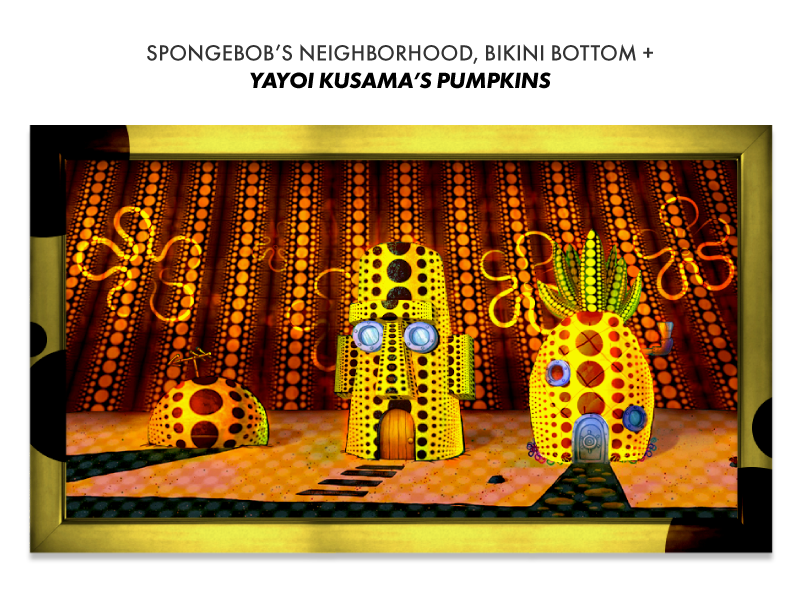 Take a look at the images we referenced for Spongebob's neighbourhood and the Yayoi Kusama work that inspired the mashup.
Downton Abbey's Library Through the Eyes of Salvador Dali
"Downton Abbey'' is synonymous with Great Britain, the slow death of aristocracy, and grand mansions filled with servants. The Downton library, an iconic space in the show where the family frequently convenes, is a space that quite literally documents and exhibits the passage of time, and the fusion of this space with Dali's surrealist style from "The Persistence of Memory" seemed poetic and well-suited. The perspective lines created by the long red carpet and pillars also work well with Dali's sense of space and perspective in his works. Dali's melting imagery has been placed throughout the room in the form of a warped clock and dripping pillows, bringing subtle surrealistic energy into this old-world space.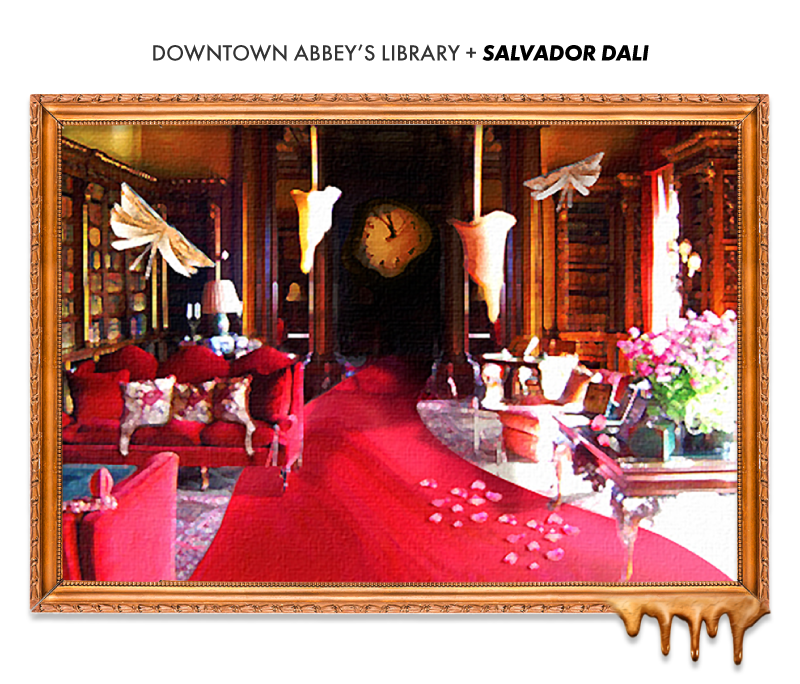 Take a look at the images we used for inspiration for this Downtown Abbey Library and Dali mashup.
The Simpson's Home and Bob Ross
After three decades on the air, "The Simpsons" Springfield home has gone through its fair share of changes. Still, no matter how much the animation may have evolved, the core structure of the Simpson's house remains as unchanged as Maggie's age. Not unlike the Simpson's abode, you might recognize Bob Ross' work anywhere. From his happy little trees to expansive vistas and landscapes, Ross was famous for having popularized the "wet on wet" style of oil painting, or "all prima." In this reimagining, "The Simpsons" house has a more lush landscape than viewers might remember seeing with the scenery reinvented by Ross' iconic tree style. All of the colors have received the Bob Ross palette upgrade, with overlapping textures and brightness throughout.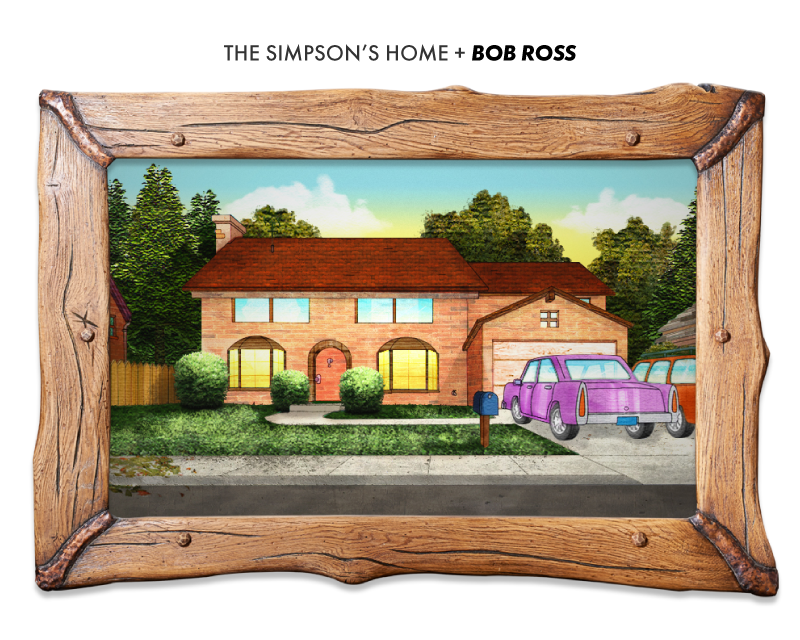 You can find more images of Homer's house here as well as the works of Bob Ross that inspired this makeover.
Homes Reimagined
Home is where the heart is, and even with our favorite TV shows and characters, the houses they live in can become like a secondary character you get to know and love. In these reimaginings, the basic structure of these homes remains roughly the same with a completely unique overlay of an artist's iconic style, brush stroke, pattern or palette. Some homes look like they've been totally renovated or reinvented, while others retain their look and character.
At Buildworld, we've got the tools, internal doors, roofing windows, external doors, building materials and resources you need for every renovation project, no matter how artistic the inspiration is. From paint and plasters to landscaping, window treatments, and flooring, no project is too big or small. At Buildworld, you'll find access to all of the brands you know and love at prices that can't be beat. Learn more online at Buildworld.co.uk now and start reimagining your own space today!
Methodology
We compiled a list of famous fictional homes and iconic artists and re-imagined the homes using Photoshop and Adobe Illustrator in each artist's style, color palette, and aesthetic.
Fair Use Statement
Want to share these new visions of iconic fictional homes? We simply ask that you do so for noncommercial use and include a link back to this page in your story as a credit to our incredible team of designers for their work and creativity on this project.