The beautiful thing about art is that there is no right or wrong answer when it comes to decorating your home. Art comes in all shapes and sizes, and it can also make or break a living space, as we'll soon find out. We interviewed 1,000 homeowners about their art preferences and tastes. For example, what are the most common art styles found in respondents' homes? How much do they spend on different pieces? Are they satisfied with the decisions they've made?
Our survey respondents were also presented with pairs of images depicting decor – one with art, one without – then asked to rate their design, luxuriousness, and sophistication. Read on to see the results!
Personal Tastes
Let's take a look at the types of art people choose for home decor. Also, how do they feel about their purchases?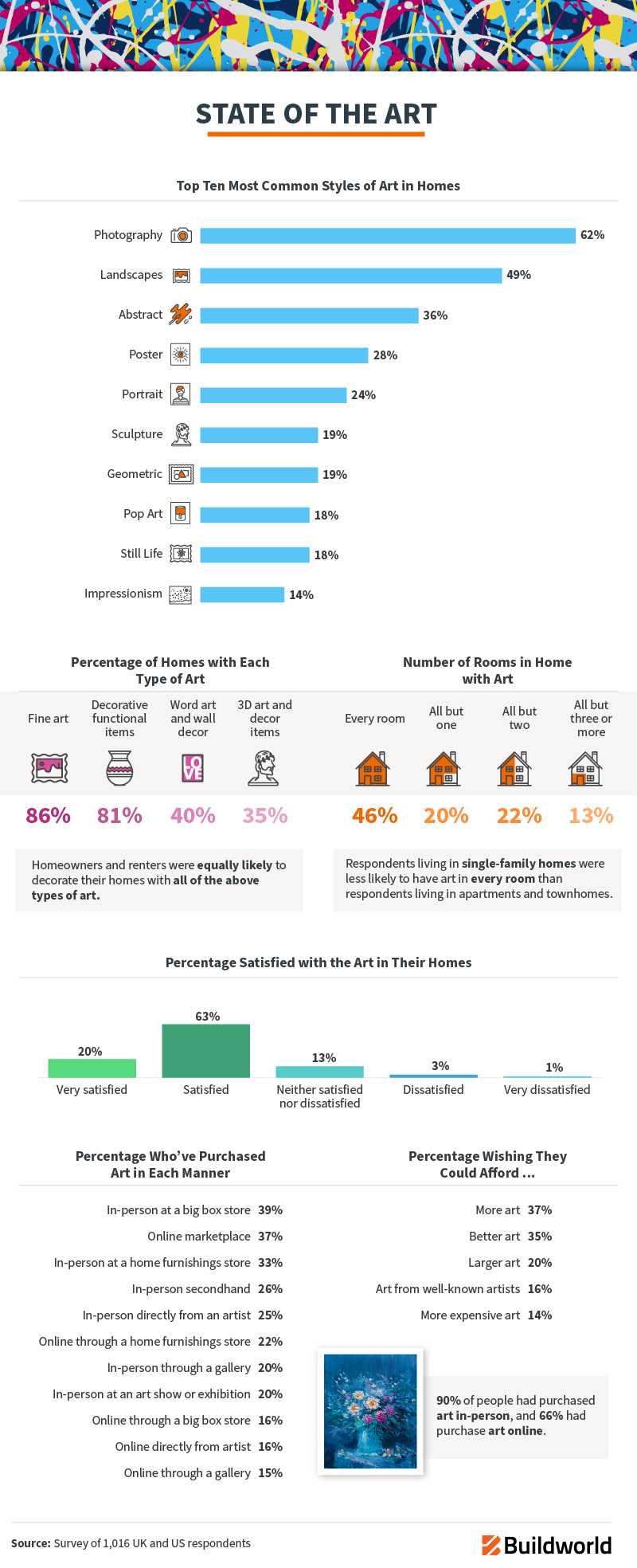 When homeowners were deciding what kind of art they wanted to hang on their walls, 62% opted for photography pieces. Landscapes were also a popular choice, with nearly half of respondents preferring to stare at natural scenery throughout their homes.
Overall, fine art was the most commonly purchased type. Although the definition is ever-expanding, the term "fine art" can simply be defined as any art form practised for its aesthetic value or beauty, not necessarily for its functionality. Another 81% of homeowners had decorative functional items in their homes, which have use outside of their visual appeal (a bookshelf, for example). Many made sure to include art as a key part of their home's atmosphere, as 46% of respondents said they have at least a piece in every room.
People were also relatively happy with their decor decisions: 63% were satisfied, 20% could not be happier, and only a select few weren't pleased with the art in their homes. Regarding art purchases, more than one third had bought pieces in-person at a big box store or an online marketplace. A similar proportion of respondents wished they could afford to buy more, and better art.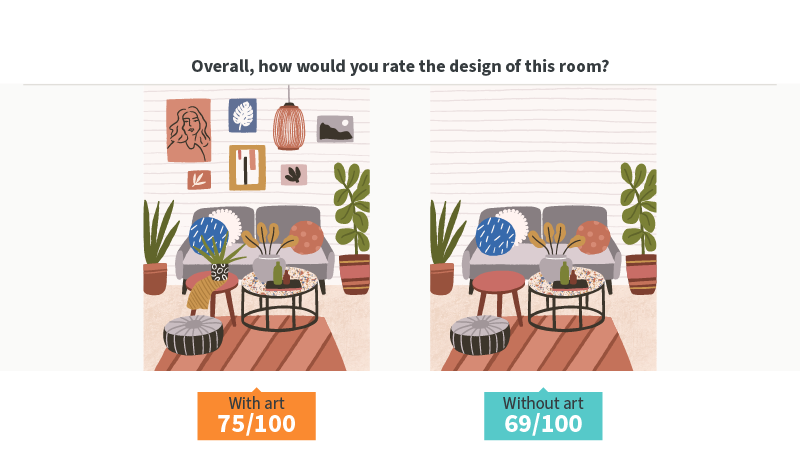 When asked to rate the design of a given room with and without art (represented by the graphic above), respondents gave higher scores to the room with art. Instead of leaving the wall behind the couch bare, people clearly preferred to have some aesthetic accoutrements to complete the room.
The Value of Art
How much do people spend on art pieces and what are some criteria that need to be met for a purchase to be made?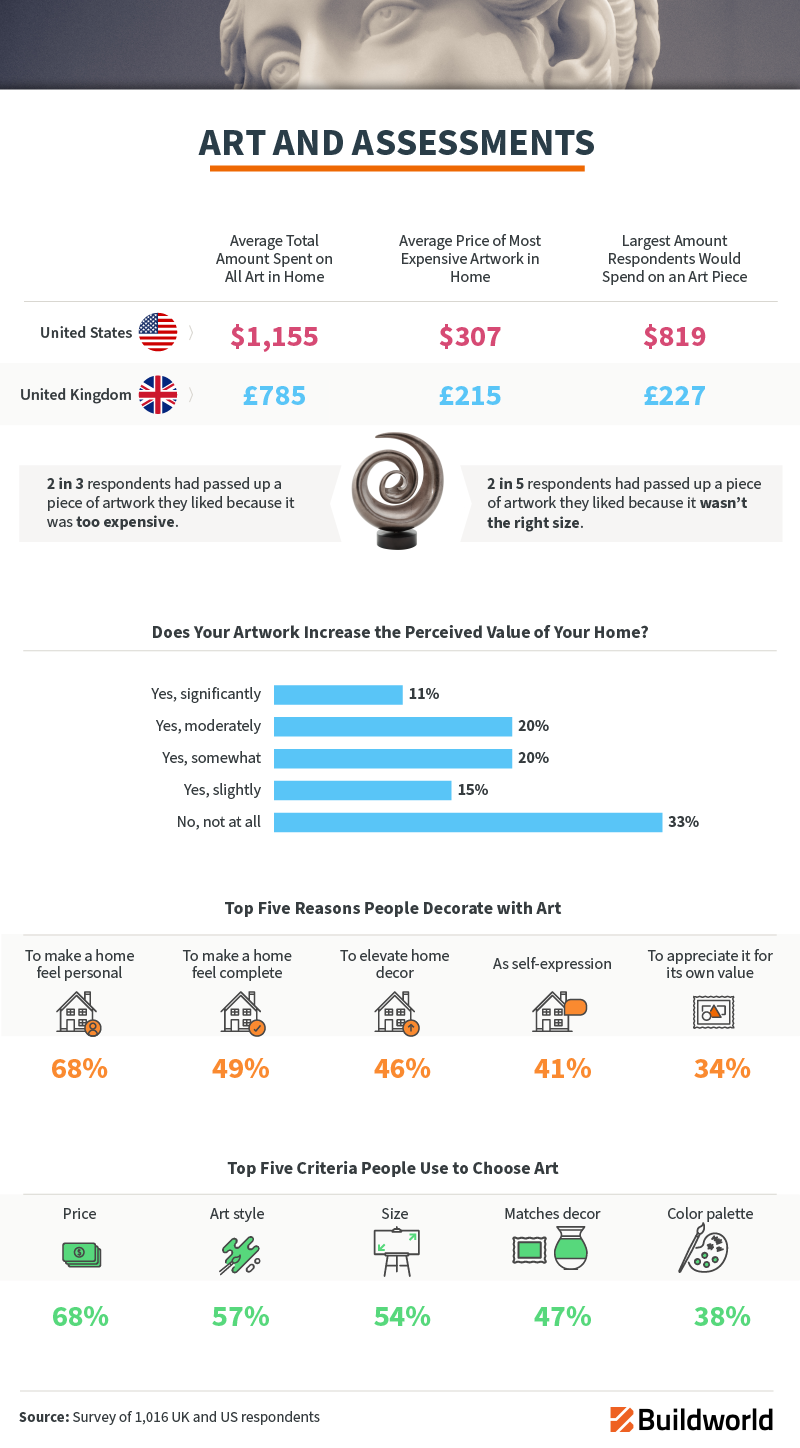 Using a currency conversion tool, we can compare art-related pricing between American and British households. Regarding the average total amount spent on all of the art in one's home, the U.S. average was only about $40 more than the UK one. The difference between the price of a given household's most expensive piece was much closer, as Americans only spent about $2 dollars more than Brits. Lastly, there was a large gap in how much respondents from either country would be willing to spend on an art piece: -People living in the United States were willing to spend nearly $500 more than UK citizens on a piece they wanted.
Many people were decorating their house with art that they liked, and didn't seem too concerned about increasing the space's perceived value. While one fifth said their decor either moderately or somewhat increased the perceived value of their home, one third said their art didn't make any difference at all.
This ties into the next point, which is that 68% of respondents decorated their houses to make their space feel personal (and not necessarily higher in value), which is of course subjective to each person. Nearly half also used art as the finishing touch on their homes. When choosing their pieces, the most important factor was price, followed by style and size. Art fanatics also considered how a piece might match the other home decor, and analyzed the color palette before making a purchase.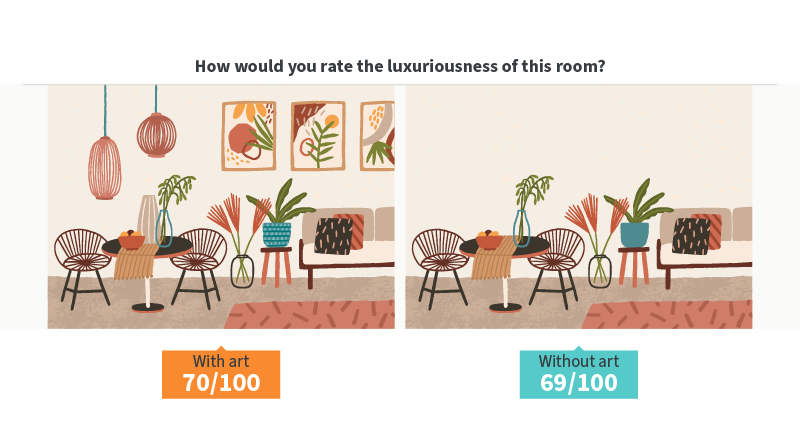 With the next set of photos, respondents were asked to evaluate the luxuriousness of a room. Again, an identical interior with art received a higher score than the room without any additional decor.
Get More of It, Spend More on It
Let's see which factors influence respondents' satisfaction with the art in their homes. What can be said about people who have more art overall and more expensive pieces?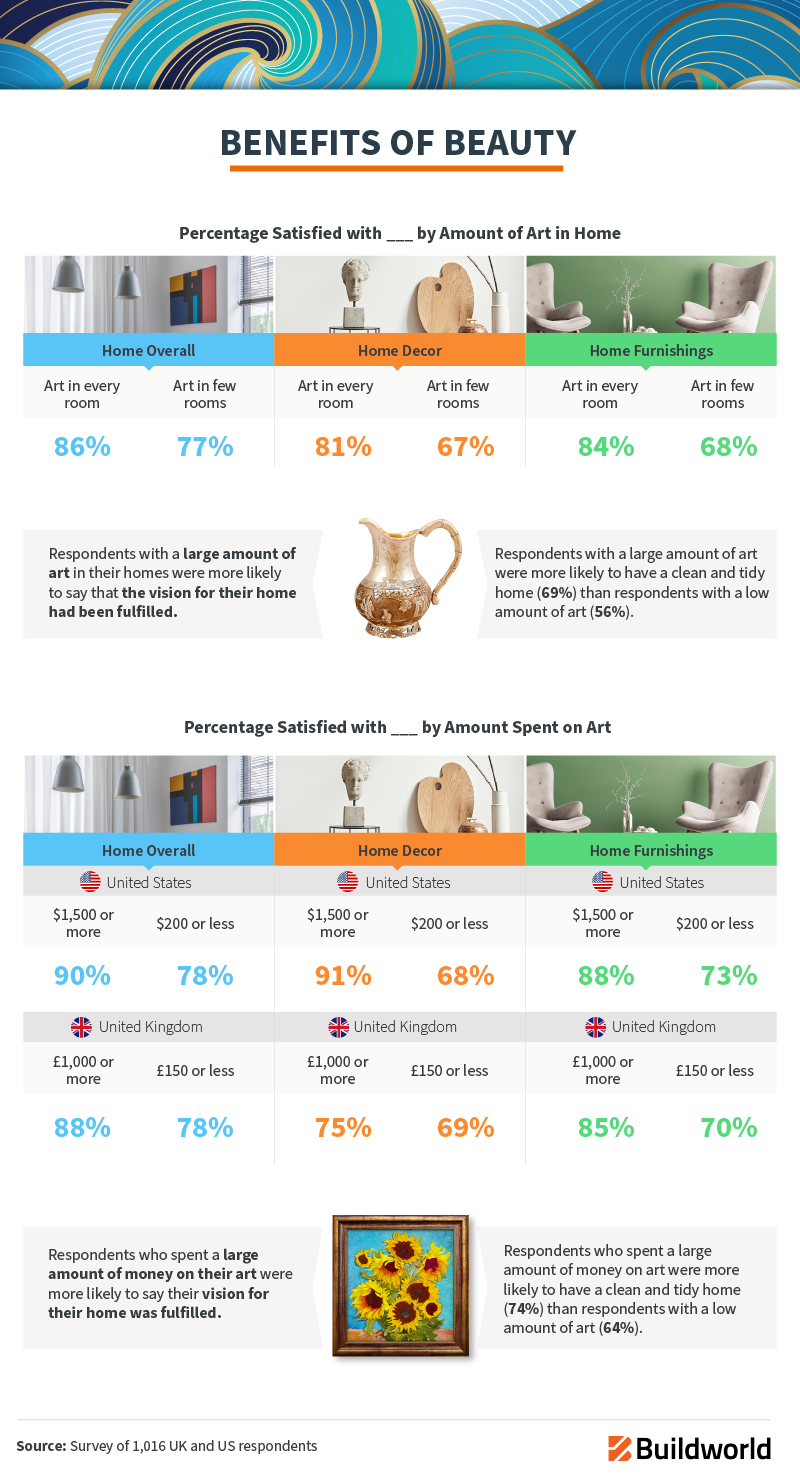 Eighty-six percent of people who had art in every room were happier with the overall state of their home compared to people with art in only a few rooms. This was also true with regards to home decor and home furnishings.
Putting up art offers other benefits besides upgrading your living space, and improving your mental health is one of them: Emotionally connecting with a given piece can bring you joy and comfort whenever you walk by it! People with more art in their homes were more likely to feel as though they had fulfilled the vision they wanted, and tended to keep the place tidier than those with less art.
Next, respondents who spent at least $1,500 or £1,000 on their art were happier with their overall living space, home decor, and home furnishings than those who spent a maximum of $200 or £150. Spending more on art also translated to a more fulfilled vision amongst homeowners.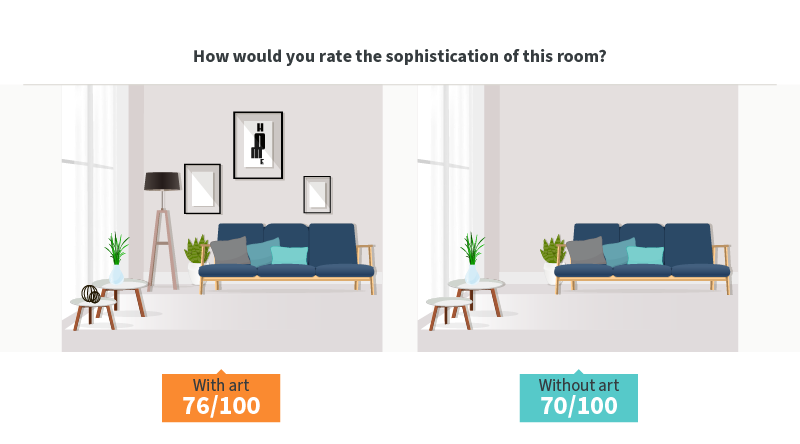 In the final set of images, respondents rated the sophistication of a room. Once again, the interior with the paintings received a higher score than an identical interior without art.
Your Dream Home
If there's one thing that's clear, it's that art brings people's living spaces to the next level. In all three graphics, the rooms that were decorated with art were given higher scores than the ones that were not. In their actual homes, most people were satisfied with the art they currently had, and many even wished they could afford additional, better pieces.
People from the United States spent more on art across the board than UK residents, and it was also discovered that people who had more art and spent more money on it were more likely to feel as if their visions had been fulfilled. While investing in art is beneficial, it's only one component that makes your house a home. For all your other household needs, whether it be building, roofing, landscaping, internal doors or external doors, or any other home improvement project under the sun, head over to Buildworld to make your dream home a reality.
Methodology and Limitations
For this study, we used a two-part survey and experiment methodology with a total of 1,016 respondents from the United Kingdom and United States. Among those respondents, 301 were from the UK and 715 were from the US. 531 respondents were female, 482 were male, and 3 identified their gender as non-binary. Our respondents ranged in age from 18 to 76 with an average age of 39.
In some cases, questions and answers have been rephrased for clarity and/or brevity. To help ensure accurate results, respondents were required to identify and correctly answer an attention check question. These data rely on self-reporting, and potential issues with self-reported data include, but are not limited to, selective memory, telescoping, and attribution errors.
Fair Use Statement
The same way people value art, we value people sharing our work with whoever they think might enjoy reading it. We just ask that if you do send this to someone, please do it for noncommercial use only. Also, we encourage you to provide a link back to the original page so the contributors can earn credit for their work!