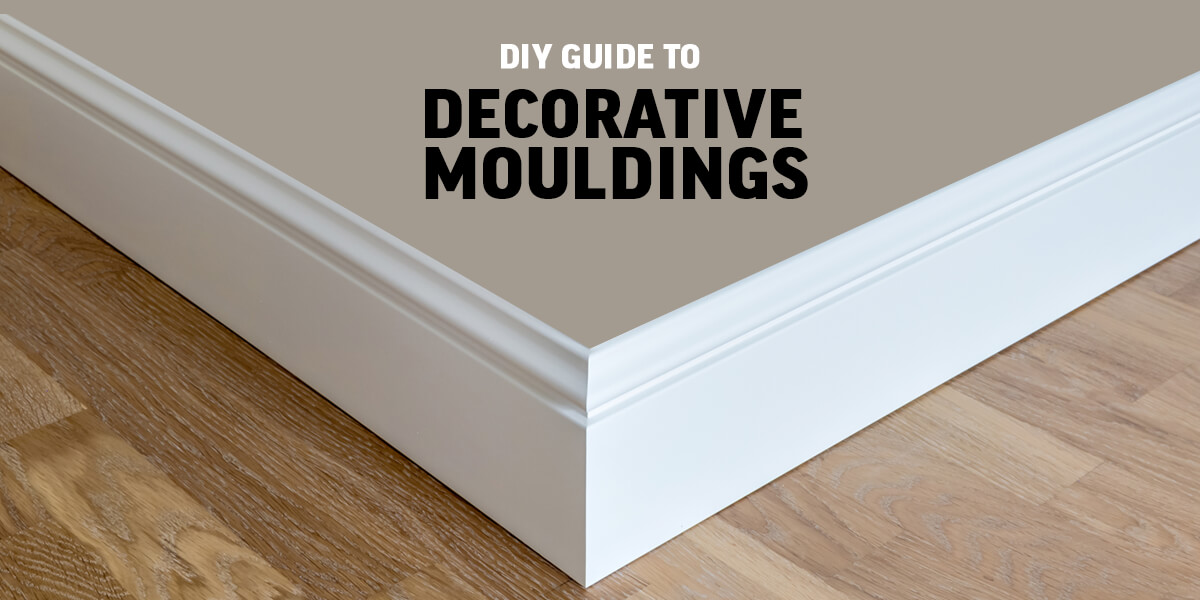 Cornices, coving, corbels and skirting...it is easy to get lost on the subject of decorative mouldings. But this intricate yet practical art form has been around for thousands of years, adding value to interior architecture and delighting DIY enthusiasts from across the globe.
While understanding the terminology of decorative moulding requires some patience, learning the ins and outs of this form of décor can give you the push you need to execute it flawlessly in your own home.
If the topic of decorative moulding makes your head spin, you're not alone. We can provide you with all of the information necessary for fully appreciating what this architectural art form has to offer.
You might be surprised to find out how much practical value these different types of moulding contain, and how broad the variety of different home decorations can be. From dado rails to architraves, we've got everything you might want to know about the ancient practice of decorative moulding.
In this article, we'll outline all the major elements of decorative moulding and find out why it has withstood the test of time in so many beautiful buildings around the world.
What are the Main Different Types of Decorative Mouldings?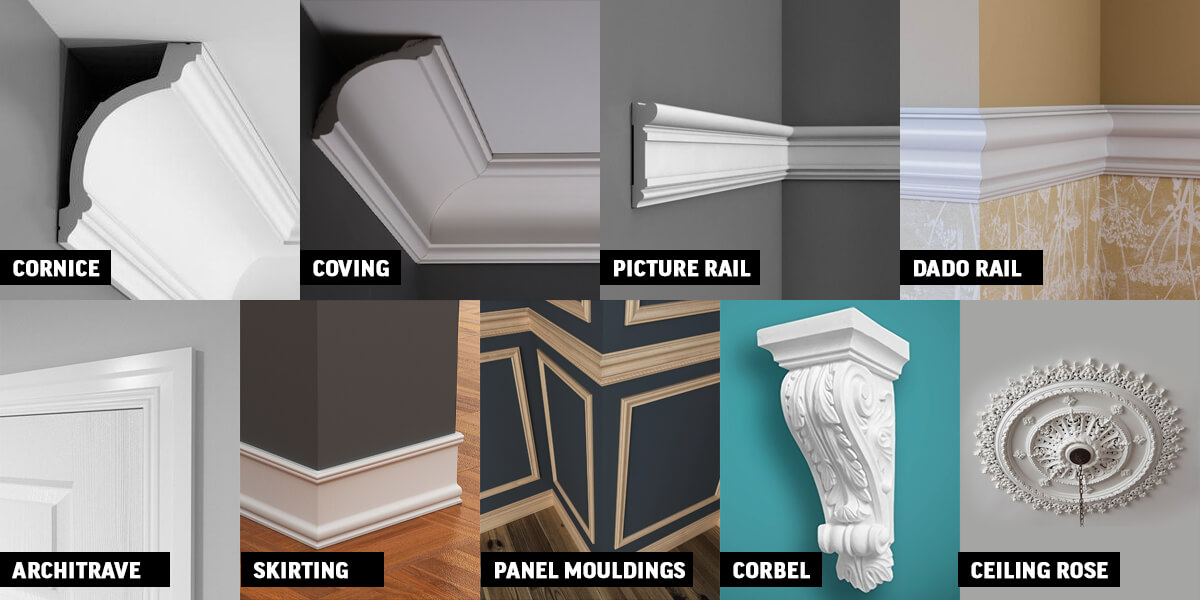 Decorative moulding is a form of architectural décor that enhances the aesthetics of a room, often while simultaneously serving a practical purpose.
Skirting boards and ceiling roses are amongst the most familiar or modern forms of decorative moulding, but there is a wide range of other types and forms worth learning about. Let's go through some common terms you may find in a conversation about decorative moulding:
Cornice: a generic term used to describe any decorative moulding that conceals the join between wall and ceiling.
Coving: a particular form of cornice that is uniform when looked at from a side-profile perspective.
Picture rail: a decorative positioned above the halfway point on a wall, used to hang metal hooks for framed fine art or photographs. The metal hooks are able to slide from one side of the rail to another, making picture hanging easier and more flexible.
Dado rail: a waist-high, often decorative rail that continues around the walls of the room, used to protect the walls from scuff damage caused by chairs or tables.
Architrave: architraves are a form of decorative moulding that traces around the join between a doorframe and a wall.
Skirting: a decorative mould or simple wooden board that skirts along the join between walls and floors.
Panel mouldings: a purely decorative panel feature that can be placed on any wall. It adds detail and ambience to any room.
Corbel: a triangular support structure positioned in the corner of where a wall and ceiling meet. In addition to serving practical means, corbels are often decorative.
Ceiling rose: a decorative moulding positioned on a ceiling, often in the centre of where a light fitting meets the ceiling. It conceals any unsightly wiring and adds intricacy to the room.
Believe it or not, there are types of decorative moulding that extends beyond this list. However, these are the main different types you need to know if you are interested in tackling a decorative moulding project at home.
Interestingly enough, the decorative moulds created today are not necessarily actual moulds. While they were traditionally moulded from plaster, modern times have shifted preference to hardened polyurethane instead.
What is an Architectural Moulding?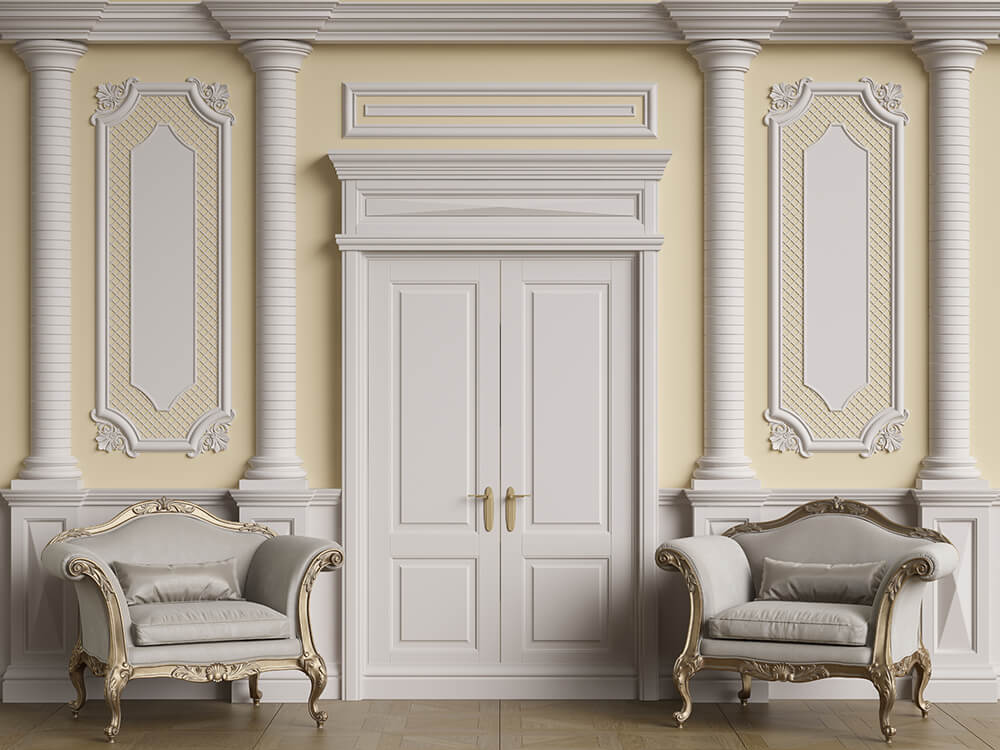 Architectural moulding is an extremely broad term that does not technically include decorative features such as corbels, ceiling roses, and certain types of cornices. Because they are not inherently related to architecture, they do not fit the description.
However, we feel that architectural moulding can be used to describe any form of decorative moulding, regardless of what purpose it does or does not serve. Therefore, an architectural moulding can be described as such:
A moulded feature (or any feature created to appear as though it has been moulded) that is fixed to the interior of a building for either decorative or architectural purposes. Often positioned to conceal joinery, architectural mouldings are a timeless piece of global architectural history.
That being said, if you wanted to focus exclusively on architectural mouldings rather than purely decorative ones, we've got you covered.
What are the Different Types of Architectural Moulding?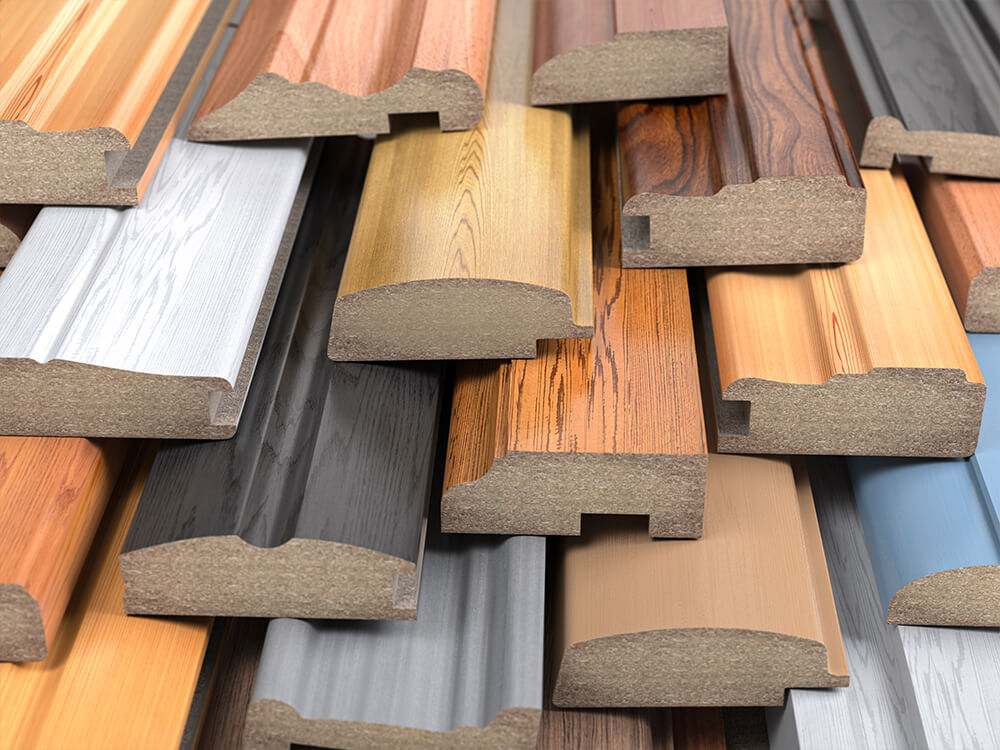 The main different types of architectural moulding include picture rails, dado rails, skirting boards, architraves, and certain types of cornices. What sets these five moulding types aside from others is that they have been designed with an architectural purpose in mind.
Picture rails serve the purpose of hanging up pictures and photo frames without needing to hammer nails into the wall, and dado rails prevent chairs and tables from accidentally scuffing the walls. Any decorative features are simply welcomed additions.
Skirting boards serve the purpose of concealing unsightly joinery between the walls and floor, and architraves deliver the same result for door frames and walls.
While some cornices are extremely decorative and beautiful to look at, many are simple and exist purely to hide the joinery between the walls and ceiling.
The Different Sizes of Cornice or Coving Explained
Now that we understand the differences between cornice and coving, let's dive into the size variations you might come across in a DIY project. There are three factors involved when it comes to cornices and coving: the projection, the drop, and the length.
Drop: this measures how far down the wall a cornice or coving sits from the ceiling corner.
Length: this determines how long the overall section length is and how far along the wall-to-ceiling join it will cover.
Projection: this measures how far the cornice or coving sticks out into the ceiling from the wall.
Before you can go ahead and install some cornices in your home, you will need to know all of the above dimensions for a seamless, optimal result.
Corbel Moulding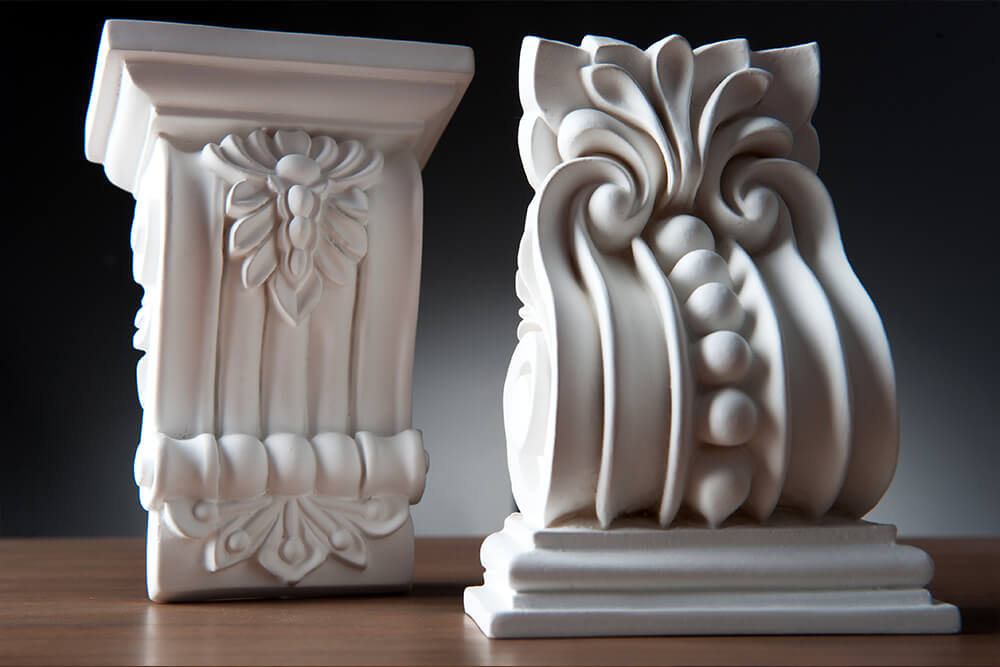 Corbels originated in medieval times, often used as constructive decorations for stately buildings or prestigious homes. Different to the other decorative moulding types covered in this article, corbels can be found in a diverse number of different materials.
They can be made of metal, plaster, wood, or even resin. Despite having the practical objective of ceiling support, corbels are often added simply for their decorative beauty. A similar design is used for supporting floating wall shelves.
Functional and often beautiful, corbels are a classic form of decorative moulding that has been added to interior and exterior architecture for thousands of years.
The Different Types of Material Used to Make Decorative Mouldings
It's not just corbels that can be made out of materials other than traditional plaster. Almost all forms of decorative moulding can be created using an alternative material, and in modern times, they often are. Let's highlight some of the most popular types of material used for decorative mouldings in the 21st century.
Plaster: this is the most traditional material used for decorative moulding, but has been phased out slowly over time due to being expensive, heavy, and fragile. It is also very difficult to apply in wet conditions.
Wood: though not often used for decorative moulding, wood can be a good material for certain cornices and corbels. Being light but strong, it is easy to work with but requires much more effort to create detail.
Expanded polystyrene: this material can be used in moulding to create extremely cheap and lightweight interior decorations. However, it is very brittle and can be damaged easily.
Hardened polyurethane: this reactive, swelling material is currently the most common alternative to plaster. It is cheap, light, and easy to manipulate, making it a good choice for intricate, detailed decorative moulds.
Paper-covered gypsum: this is what covings were originally made from. Gypsum is a type of drywall that holds shape well, thus paper-covered gypsum is exactly what it sounds like. Hardened gypsum covered in paper for protection and smoothness, light and easy to work with, but needs painting before completion.
In this day and age, DIY enthusiasts have their pick of the lot when it comes to decorative moulding. Hardened polyurethane, plaster, gypsums as well as timber and sheet materials are currently the most popular material choices for this architectural art form.
What is Hardwood Moulding?
Generally speaking, wood moulding of any kind is used to mark transitions between walls and ceilings or conceal rough joinery. However, with enough patience, they may also be used for decorative moulding purposes.
Hardwood moulding is not technically moulding, however, it does represent the use of hardwood materials in decorative moulding projects. Many people will choose hardwood to create skirting boards, corbels, architraves, cornices and panel mouldings.
Hardwood typically comes from trees that grow slowly and are therefore denser, contributing to a solid and inflexible moulding result. Some hardwood categories include oak, cherry, walnut, hickory, and maple.
What is Softwood Moulding?
As the name suggests, softwood mouldings are simply architectural mouldings made from softwood. Softwood is better suited to decorative features due to its pliable structure and is much easier to carve intricate details into.
Softwood is often used for skirting boards, panel mouldings, architraves, and certain types of corbels. The most popular forms of softwood include cedar, ash, birch, Douglas fir, and pine. Other trees belonging to the evergreen category are likely to be softwoods.
What is Decorative Trim Moulding?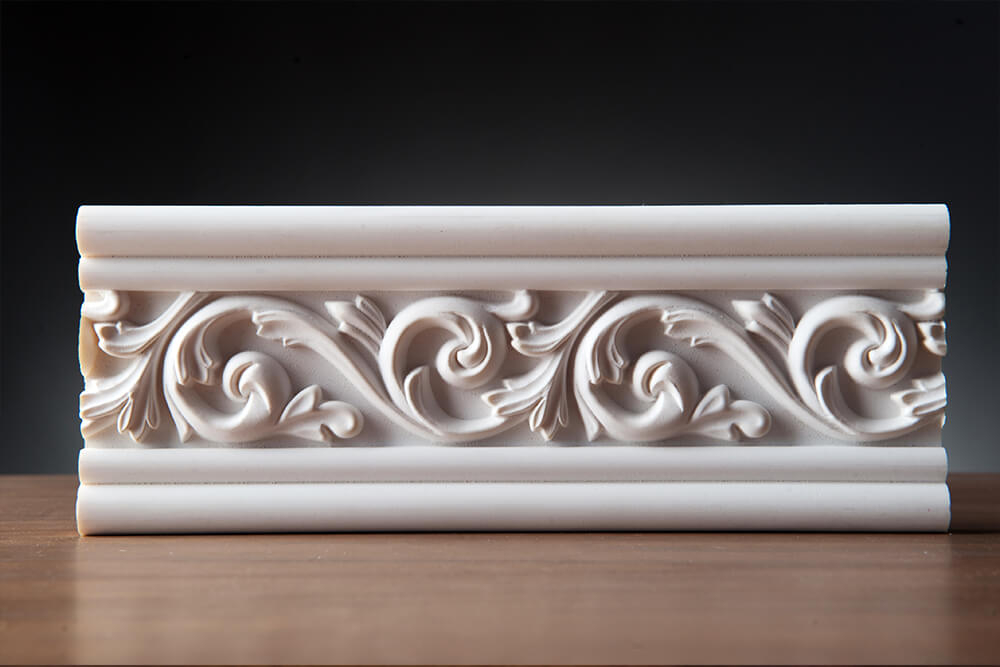 Decorative trim moulding acts as a sort of visual transition between the major joinery points of a room. A decorative trim may be used in place of a skirting board that sits along the length of where the walls meet the floor or fitted into the line where the walls meet the ceiling.
Wherever you choose to place this form of moulding, what makes it a decorative trim will be a clean, repeated pattern that adds visual interest to any room it sits in. Some of the most popular forms of decorative trim moulding are called Batten, Dentil, Cove, and Crown.
All of these decorative trim moulding types can range from simple yet elegant to ornately detailed, depending on how much money you are willing to spend.
What is Batten Moulding?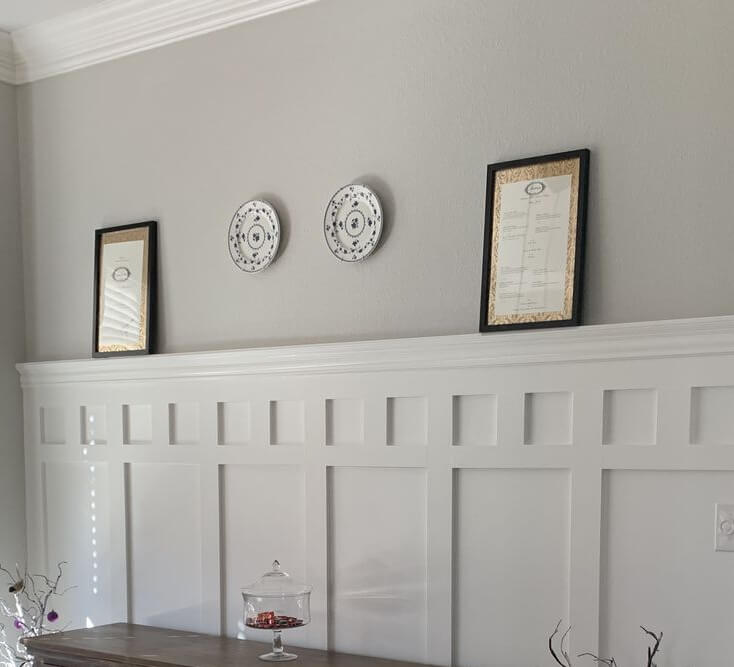 Batten moulding is one of the most popular forms of decorative trim moulding, often used for skirting or architraves. However, it can be used to cover any interior or exterior joinery.
Batten moulding can be recognized through its classical appearance, with sharp edges and a soft, curved middle section. This gives the Batten moulding a distinct and elegant style that has been used for centuries as a European architectural standard.
A Great Decor DIY Option
If you are looking for a way to uplift the aesthetic of an interior without cluttering the space, investing in some decorative moulding pieces can certainly do the trick. These eye-catching yet functional features are fairly inexpensive yet deliver an unquestionable elegance to any room.
Now that you understand what decorative moulding is and how many diverse options there are to find, we wish you the best of luck with any future DIY projects that utilize this beautiful and timeless architectural art form.
FAQ
How do you attach decorative moulding?
Although the answer to this question depends largely on what type of decorative moulding you are wanting to install, most types are attached using nails. If attaching on your own, you will need to pencil out the exact positions of your decorative moulding before nailing them into the wall and covering up any gaps with putty. It is a relatively simple DIY home project, but it will require basic skills and foresight.
How much does decorative moulding generally cost?
There are many factors involved in the cost of decorative mouldings. Skirting boards, dado rails, and picture rails start at around £5 per metre, while wall panels tend to be more pricey, costing between £60 and £100 per panel. The level of detail, material, and quality involved will drastically influence the price.
How are decorative mouldings made?
Traditionally, decorative mouldings were made from plaster, making them easy to design, cast, and recreate. Once a plaster mould is made, the craftsman could simply recast as many multiples as he wanted. In the 21st century, a broader spectrum of decorative moulds are used, allowing for modernized production methods such as laser cutting and 3D printing.
What is the difference between trim and moulding?
A decorative trim is a type of linear moulding. Some decorative moulding types that fit into the trim category include skirting boards, architraves, dado rails and picture rails.