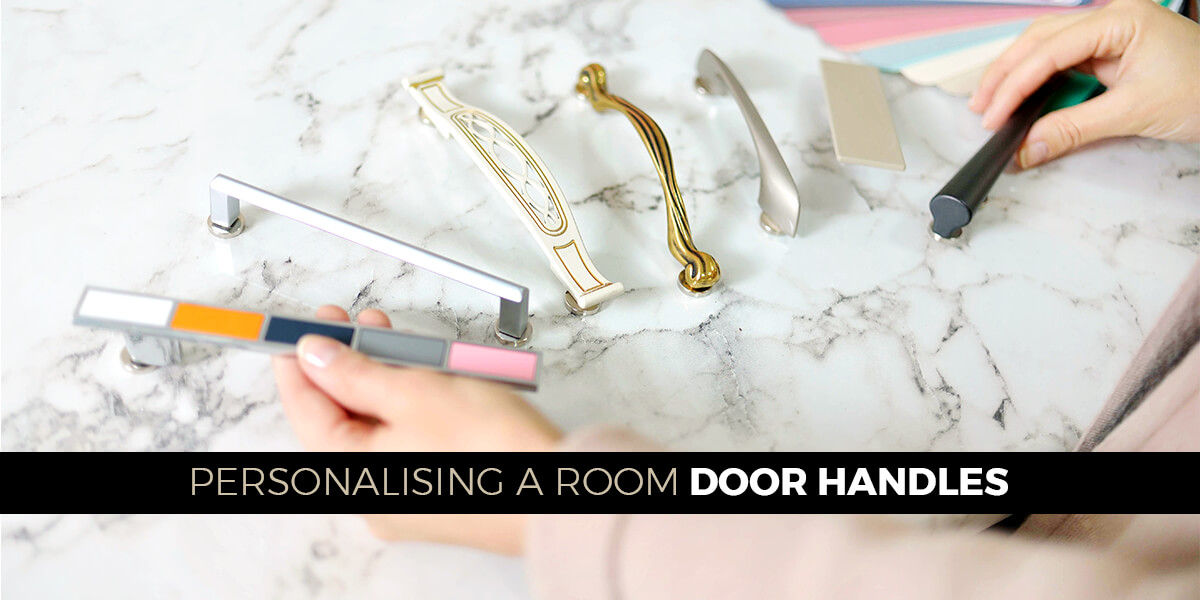 Door handles are an aspect of design that is often overlooked when deciding on finishes for your home. With a focus on paint colors, pieces of furniture, floor coverings, and light fittings, door handles can quite easily go unnoticed.
The right door handle, however, can absolutely change the whole feel of a room, and these small details can provide the perfect finishing touch to a space.
If you're not sure what door handles would suit your home, or you're looking for some inspiration, you'll find it all here. In fact, we'd say you can get a handle on it
Straight Lines or Curves?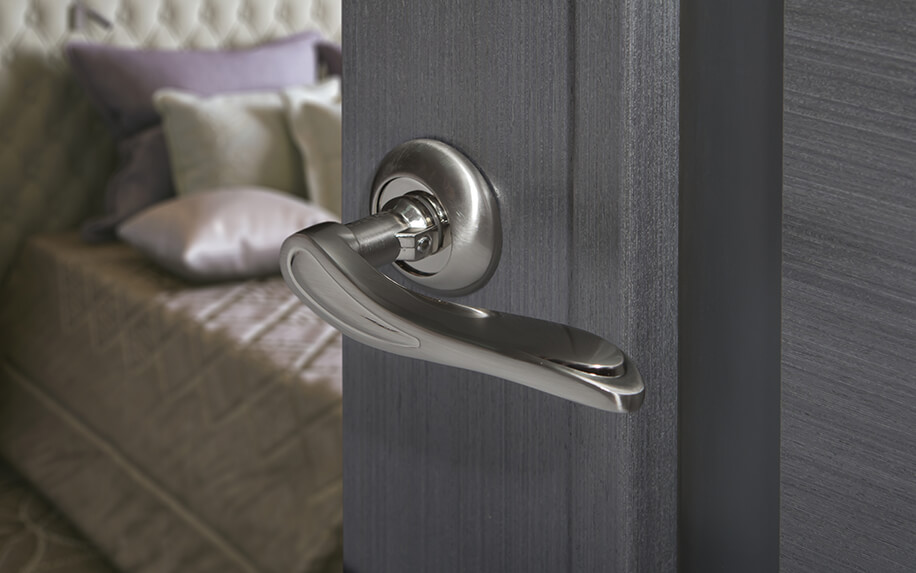 Over recent years straight lines and clean finishes have been the cornerstone of modern minimalistic designs. However, the curved handle has come back to design circles. Curves create a much softer finish and create a more organic feel to a design. The curved door handle also enables rooms to have a relaxed and even more welcoming feel in comparison to the sleek straight lines of other door handles.
How to Choose the Right Door Handle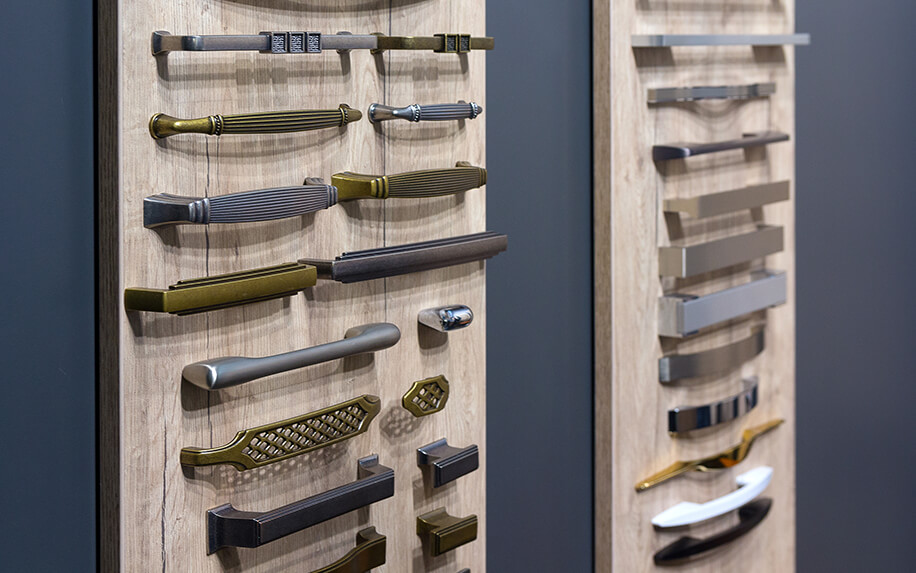 The first place to start is by looking at the overall picture of your room.
Making a conscious decision about the direction of the design of a room, and the feeling or mood you are trying to create will enable you to make the correct decision about which door handle to choose.
Current trends show homeowners striving to create rooms with a comfortable homely feel. The design might be minimalist, or it might be quite organic, but the overall mood of rooms at present is leaning towards creating a homely feel. This moves away from a structured feel and leans towards a far more comfortable space.
This may be due to the various lockdowns that the world has been through over the past years, and people spending more time living and working from their homes. The organic comfortable feel in a home is best supported with curved door hand styles. These can still be simple and clean, but the curved shape offers a far more organic feel.
Minimalist style rooms are best supported with straight lines, and you can consider carrying these straight lines across to door handles as well.
Lever Handles vs Doorknobs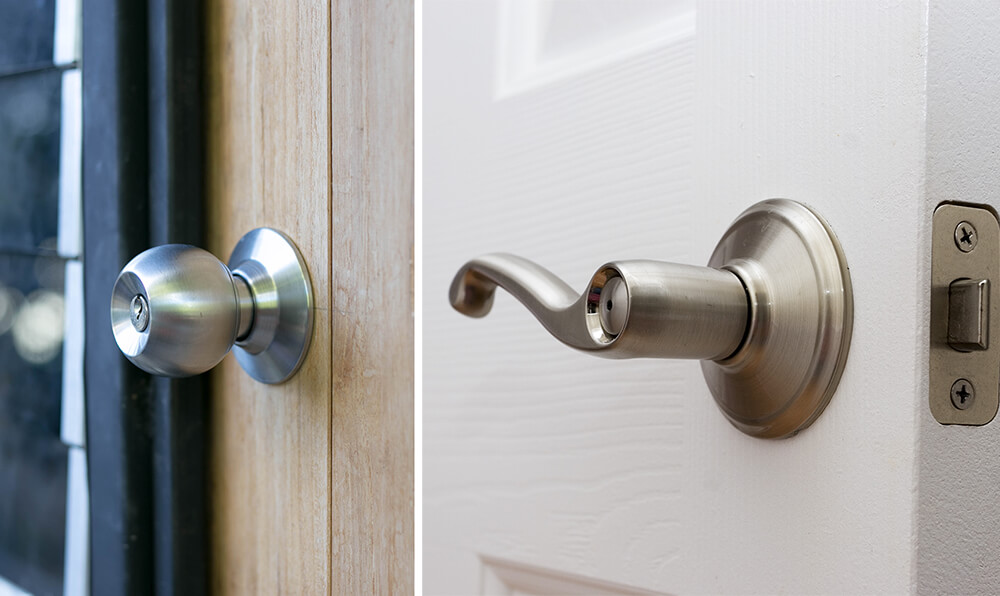 There are various reasons why a homeowner might choose a levered handle or a rounded doorknob. Lever handles are certainly easier to operate - they don't require as much strength to open, and so are always the preferred option for older homeowners.
Round doorknobs do bring an incredible design element to a room, and with so many colors and styles available, they can easily complement a front door, creating a wonderful welcoming to a home.
For the DIY enthusiast, remember that rounder doorknobs are much harder to install. They do require a much deeper backset, and some doors are not even able to fit these doorknobs. If you're looking at changing from a levered handle to a rounded doorknob, check the dimensions of the door quite carefully before making any changes. However, if you are installing a brand-new door, then both options of handles can be considered, and you can take the design in the direction of your choice.
Remember the Latch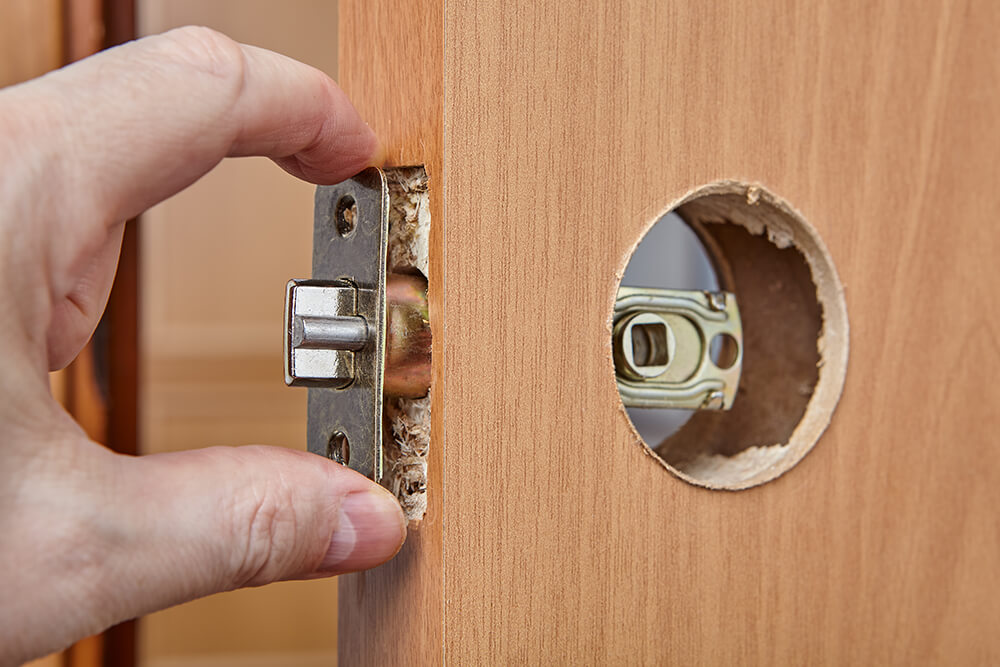 If you are replacing door handles, it's strongly recommended that you replace the latch at the same time.
A new latch correctly fitted for the new handle ensures that the springing mechanism is optimal. This ensures that the lever will also sit perfectly horizontal, which is vital in creating the proper finish and look.
Remember when fitting a rounded doorknob that the latch needs to be a two-way latch, which means that the knob can be turned in both directions, both clockwise as well as anticlockwise.
DIYers will understand quite well that if you have gone to the trouble of installing a new door handle, it is so important that it works smoothly and easily. This means that it must line up perfectly with the internal latches and hardware.
Door Handle Options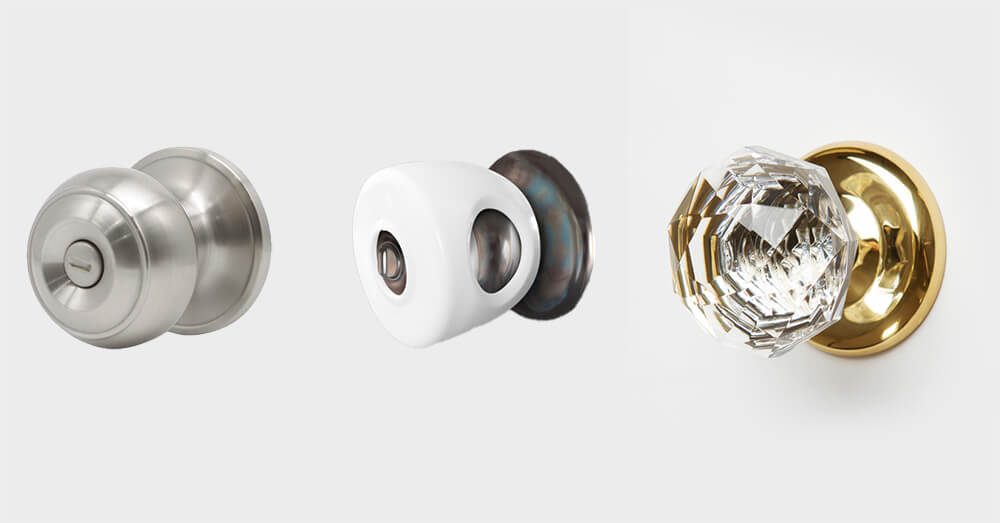 There are certain door handle styles that are designed specifically for certain purposes. Some of the most popular options include:
Round rosette doorknobs that feature a texture on the knob that makes turning it easier. This design is ideal for homes with characters that still want to retain their style but find the smooth doorknobs a hindrance.
Doorknob covers are a common choice for parents with children. These baby-safe covers enable parents to put a measure in place which prevents children from being able to turn the doorknob and open a door. Amazingly they are compatible with most doorknobs, and so can quite easily be used on an existing doorknob you might already have in place.
Vintage doorknobs can suit certain room designs and are available in glass, plastic or acrylic, and brass. The plastic or acrylic options are best suited as replicas, where replacing a doorknob with glass wouldn't be practical or cost-effective.
Outside Door Handles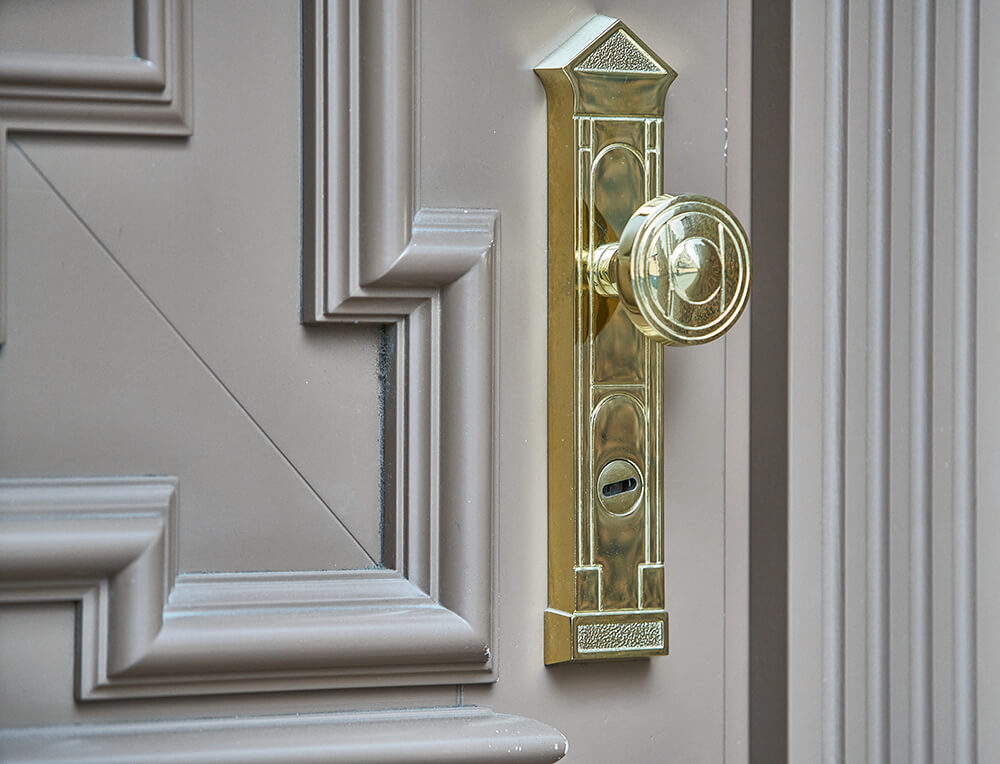 Another aspect for homeowners to think about are outdoor door handles. These need to meet a range of different requirements.
The first aspect that must be considered is whether the handle is waterproof and weatherproof. Depending on your climate, it might need to be able to deal with extreme temperatures, in particular below freezing temperatures.
Some doors are also in a position where they might be wet by rain consistently. As such, in addition to treating the door to be able to withstand this constant moisture, the handle needs to be able to cope as well. It should not rust, buckle, or get stuck because of these weather interferences.
You can have a bit of fun with external door handles as well. One option is to tie the design of the handle in with the interior of the house. This will mean a seamless transition from exterior to interior. However, the other option is to be completely different.
An external door handle can make a statement, and this provides you with an interesting option. The front door handle is something that should never be overlooked. This is the introduction for any visitor to your home, and it provides homeowners with a wonderful opportunity to make a real statement.
A door handle is like the handshake of a house, and this is what visitors will feel when they arrive. A handle that is large and heavy-set creates a very different impression to one that is organic, curved, and light. Take the time to carefully consider the options for the front door, as its impact should not be overlooked.
Size of Door Handles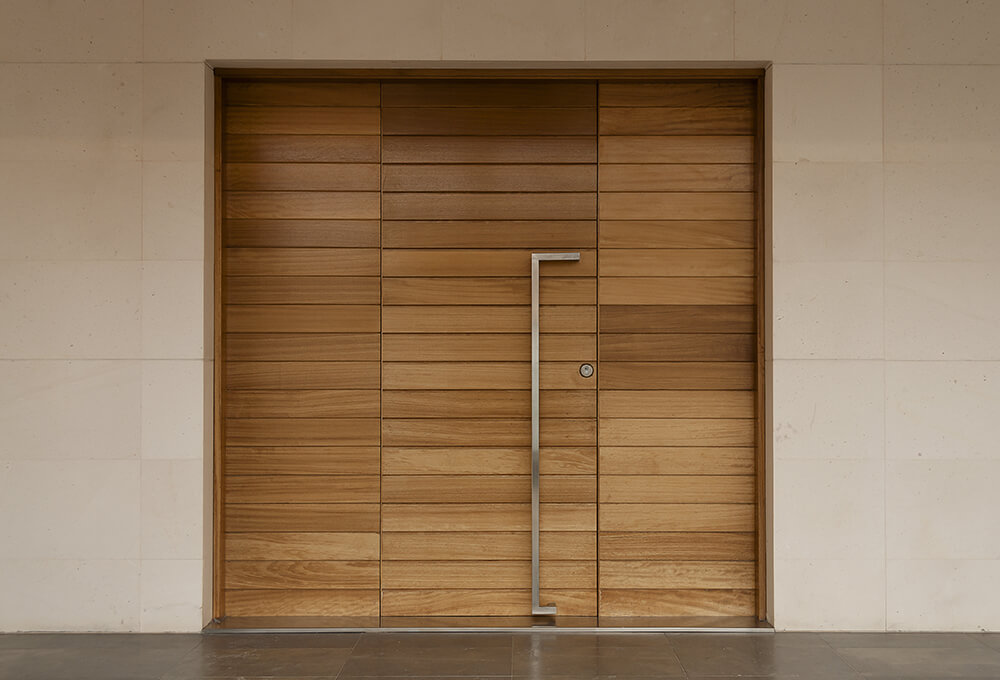 The size of a door handle is of vital importance.
In a standard-sized house with standard-sized rooms and standard-sized doors, a standard-sized door handle can be used. However, particularly with large rooms, and when doors are used that are bigger than the standard size, the size of the door handle needs to be thought about quite carefully.
The general rule is that as the size of the door increases, so too should the size of the door handle.
However, you really need to have a solid idea of the type of feel that you want the house to have. A large door can work well with a large, rounded doorknob, but can work equally well with a long straight steel bar type of door handle.
When dealing with larger doors, the placement of the door handle can also be varied. Typically handles will be placed completely to the right or left of the door. However, certain handles allow options for the placement to be slightly offset from the edges. Some bold designs even have large doorknobs placed right in the center of the actual door, creating a definite statement.
It is worth playing around with this placement before the door handle is installed, and really get a feel for what is going to create the right impression, but importantly also going to be user friendly. For 95% of the time, the door handle must be perfectly functional. There are occasions where they are purely decorative, but whatever the case, the placement is of equal importance.
Personalise your Home
While all these factors are certainly worth considering, at the end of the day, door handles are all about one thing.
They are about personalizing your home.
Every door needs a handle for practical purposes. That part is easy.
The really exciting part is that door handles provide an opportunity for bringing your own personality into a space. Formal, clean, organic, nostalgic, and playful are all moods which can be brought into a room purely by the placement of a door handle.
There's an incredible array of door handles available, and the sky is really the limit in how you can bring your flair into the frame. When you choose the door handles that reflect your personality, your house will truly feel like yours.