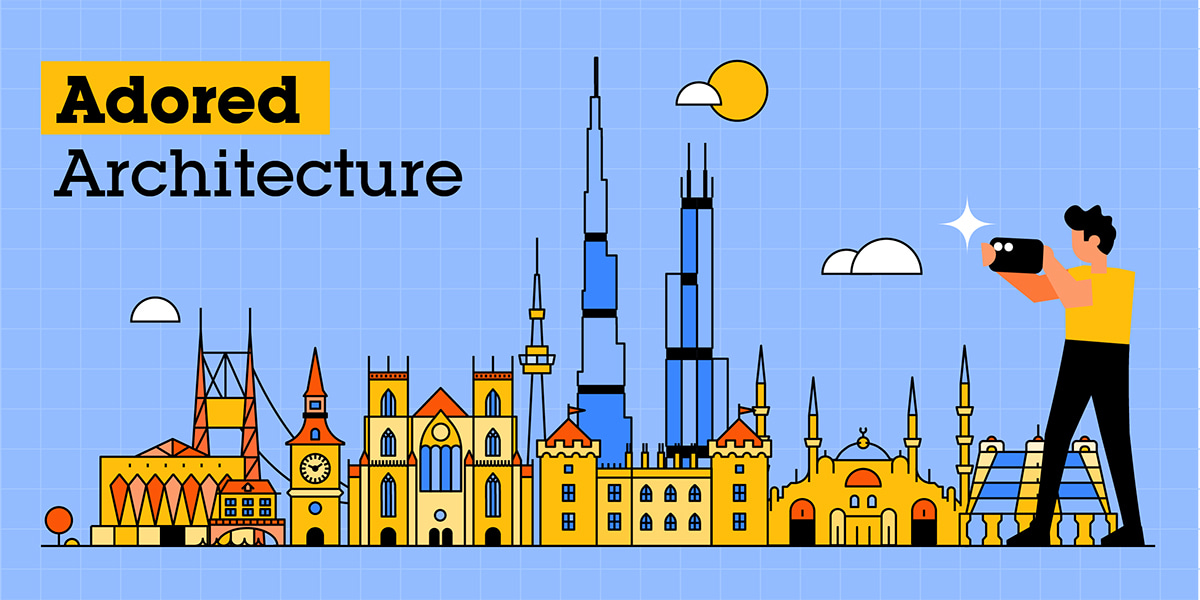 The greatest "eureka!" moments tend to come when you step away from the problem you're trying to solve. In the case of home design and renovation, often the most inspiring way to move forward is to get out from those four walls and go see some serious architecture in the wild.
With architecture, you're spoiled for choice. The streets are literally lined with it. And if you're thinking of venturing further from your hometown to take in the wonders of the built environment, you'll find no end of subjective articles telling you that this or that city should be on your aesthete's bucket list.
So, Buildworld decided to take a more scientific approach. We analysed tourist reviews of architectural sites in hundreds of cities around the world to find which areas have the highest density of top-rated buildings. For example, some 84% of architectural destinations in Chicago are rated 4.5 stars or higher - meaning you'll rarely happen upon a dud in the Windy City.
Scroll on to discover the best city destinations for architecture lovers - as elected by architecture lovers.
What We Did
Buildworld identified the top 10 destination cities in every country according to each country's Tripadvisor page. We filtered the listings in each of these cities to find reviews of local architecture. Next, we calculated the percentage of architectural sites in each city that have a 4.5- or 5-star rating and ranked the cities according to this metric.
Key Findings
Iasi in Romania is the best holiday destination for architecture lovers, with 92.31% of the architectural attractions earning a rating of 4.5 stars or more on Tripadvisor.
Chicago, Illinois, is the best North American destination for architecture, with 84.00% of attractions rated 4.5 or higher.
Quito in Ecuador is South America's top architectural destination, with 86.67% of attractions rated at least 4.5 on Tripadvisor.
Asia's best destination for architecture lovers is Quezon City in the Philippines, where 90.00% of the buildings have a rating of 4.5 stars or higher.
Romanian and Northern English Cities Are World's Best Architectural Bets
The world's most sure-fire hit destination for architecture lovers is Iași, the "cultural capital"; of Romania, where more than nine out of ten buildings are top-rated. Iași's postcard piece is the 365-room neo-gothic Palace of Culture, completed nearly a century ago. Despite the palace's epic scale, its true wonders are found in the details.
Lest we forget that architecture is as much about light and space as bricks and mortar, Iași's Botanic Garden Anastasie Fatu is rated 4.5 and boasts a pagoda and greenhouses among its carefully cultivated landscape — a dreamy place to find inspiration for your garden.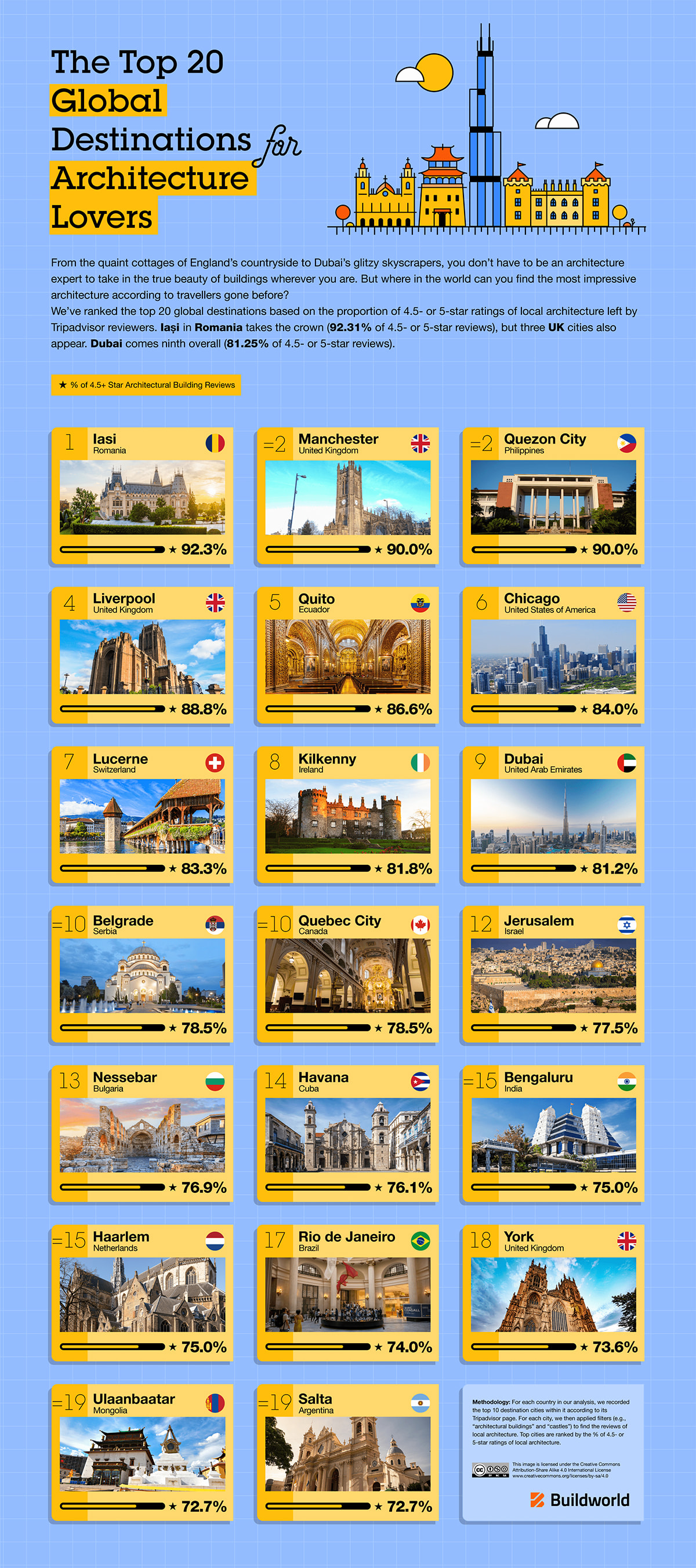 Click here to see the image in full size
Six of the top ten cities for architecture are in Europe, with the other four found in Southeast Asia, North and South America, and the Middle East. All in all, the UK seems a good bet, with second-placed Manchester and fourth-placed Liverpool just a 40-minute train ride from each other in England's northwest. York, to their east, is also within easy travelling distance from these cities and qualifies for the world's top 20 architectural destinations, with 73.68% of its attractions rated 4.5 stars or more.
Chicago is the Best North American Destination for Architecture Lovers
The U.S. boasts three of the ten North American cities with the highest 'hit rate' of first-class architectural sites. Chicago leads the way. The 'Windy City' has become associated with a brand of imposing but progressive buildings, having been largely redesigned following the 1871 fire. Frank Lloyd Wright, Ludwig Mies van der Roche and Jeanne Gang are among the big-name architects on show. And between the overbearing steel skyscrapers, you'll find unlikely treats such as the Rookery Building, ornamented with ironwork by original architects Daniel Burnham and John Root — its central court later remodelled in glass by Frank Lloyd Wright.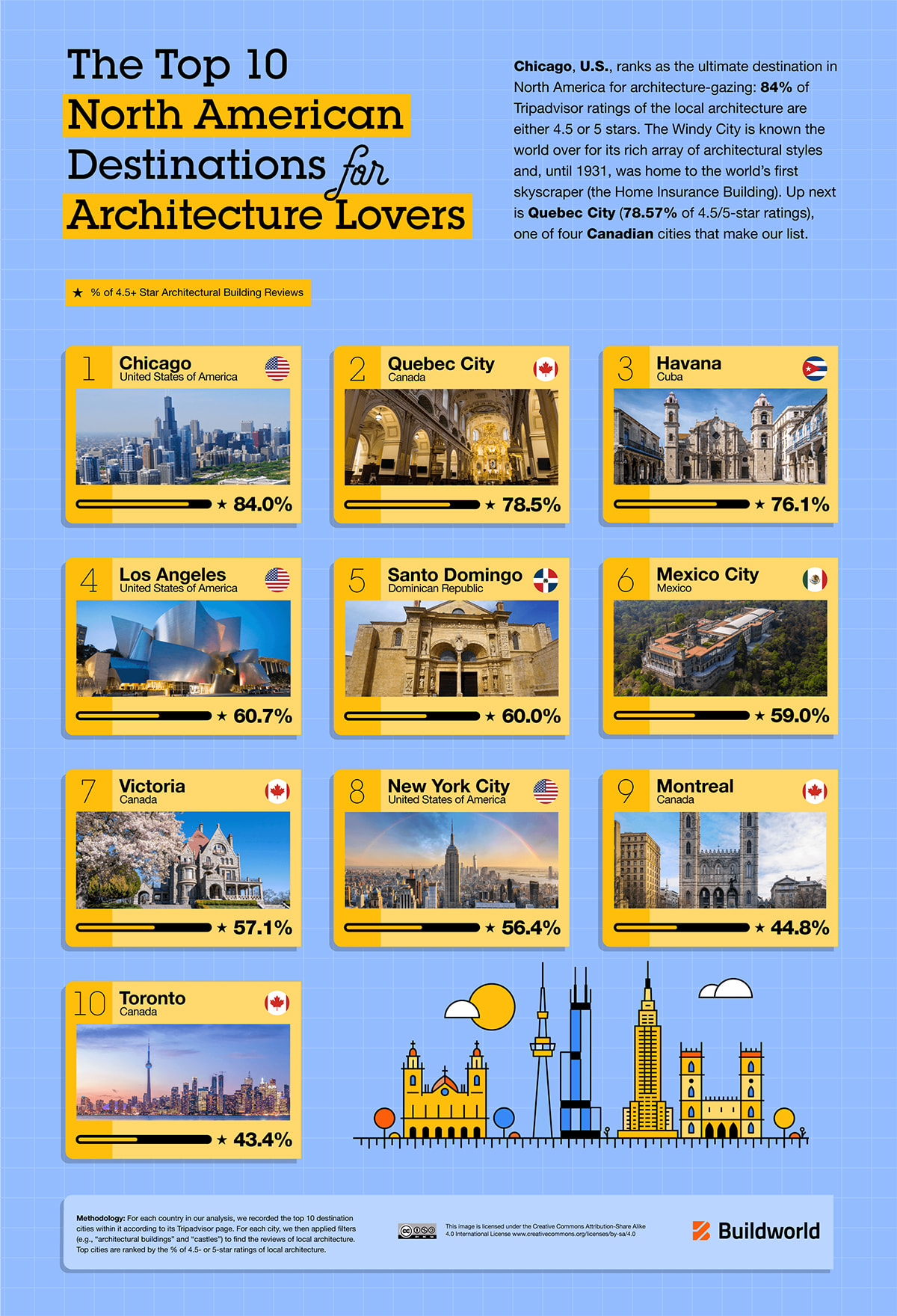 Click here to see the image in full size
Canada has four cities among the continent's top ten. Québec City is significantly higher-rated than the others and offers an intriguing counterpoint to the continent's number one: Chicago. Some of Québec City's buildings date back to the 1600s, and their French and British flavours are distinctly more romantic than Chicago's modernist, industrial feel. Most uniquely for this part of the world, the three miles of rampart wall surrounding the west part of the city's Upper Town are over 400 years old and were embellished with the neo‑mediaeval Saint‑Louis Gate in the 19th century.
Ecuador's Capital is South American Capital of Architecture
Ecuador's capital, Quito, is South America's stand-out venue for top-rated architecture, with 86.67% of its architectural attractions rated 4.5 stars or higher. Up in the Andes, the world's second-most elevated capital city may have been first inhabited as long as 6,000 years ago, but its architectural character is defined by colonial and modernist developments. The city was revitalised in the 20th century with ideas brought by European modernists but also with the eclectic approach of local designers who blended contemporary ideas with traditional, pre-Columbian styles - adding colour and organic flourishes to their bold new buildings.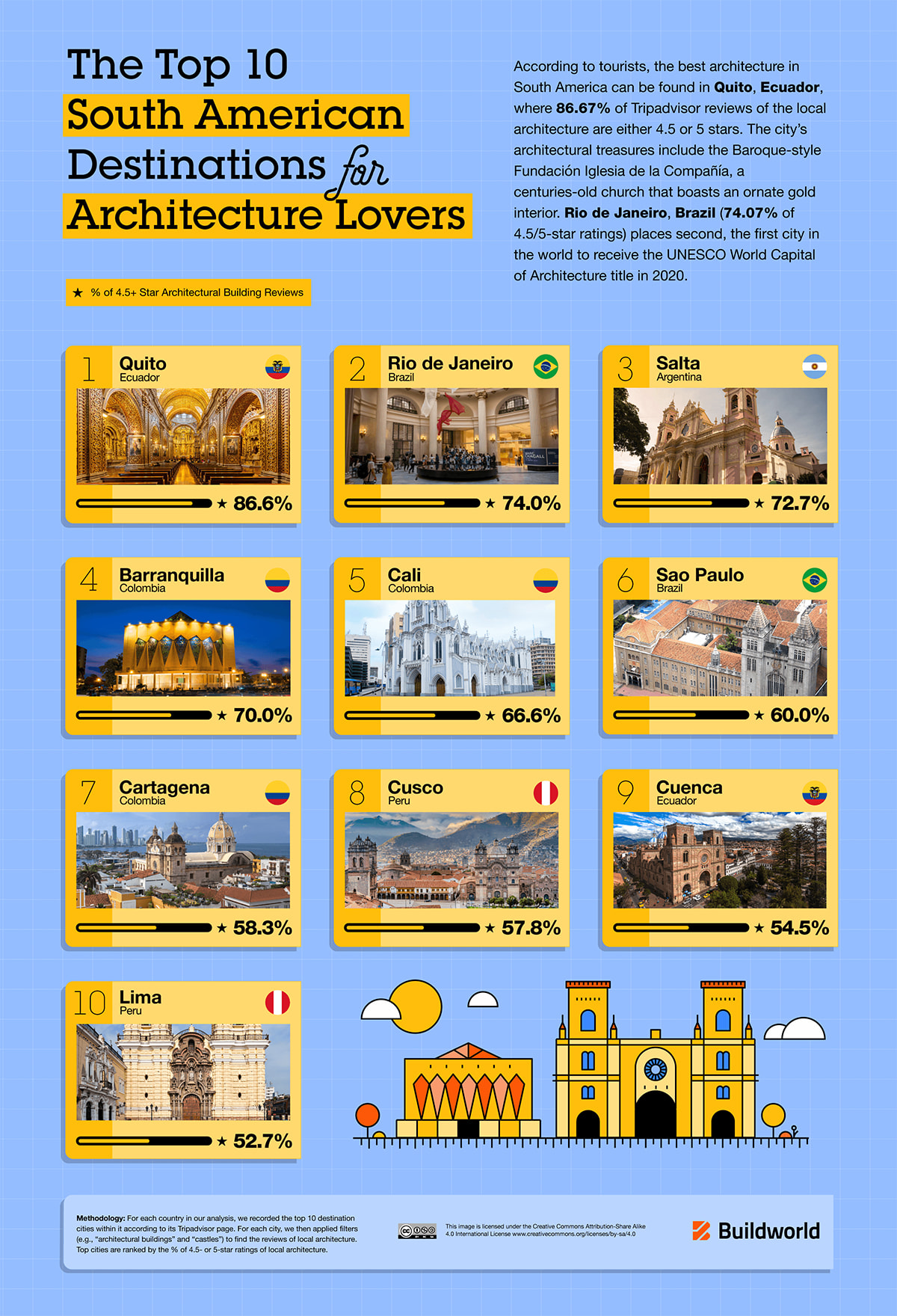 Click here to see the image in full size
Quito out-architectures second-placed Rio by over 12%. However, Rio does have the distinction of having been crowned the first-ever World Capital of Architecture by UNESCO and the International Union of Architects. "Perhaps no building better represents Rio's innovate design than the Niterói Contemporary Art Museum," wrote House & Garden at the time. "Its distinctive saucer shape and bright red walkway makes it resemble more of a UFO than a cultural space. Combined with its cliffside location, it's one of the must-see cultural marvels in Rio, and perhaps even the world."
Europe: Manchester and Lucerne Offer Contrasting Architectural Wonders
Iași in Romania is the top-rated city in Europe and the world (see Romanian and Northern English Cities above). But a brace of northern English cities takes second and third place.
Both Manchester and Liverpool have undergone massive redevelopment over the past few decades — for better and worse. Manchester has become known for its blend of industrial history and corporate modernism, with imaginative warehouse refurbs brushing shoulders with the likes of 2006's Beetham Tower — formerly the tallest building in the UK outside of London. The neo-Gothic John Rylands Library may offer your best shot at inspiration, offering both scale and fine detail, inside and out.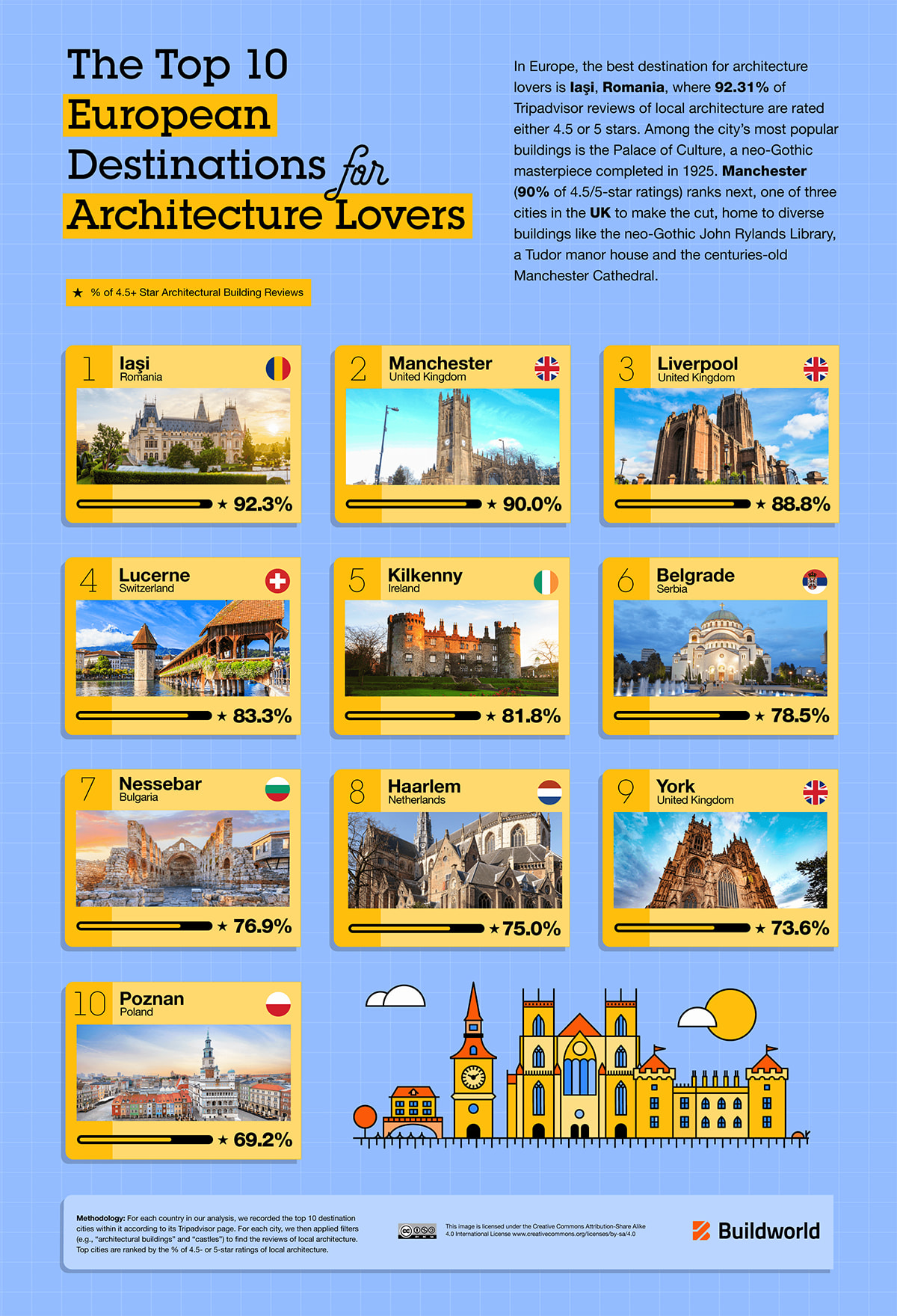 Click here to see the image in full size
Lucerne in Switzerland offers a less urban take on the built environment. Sat on the edge of idyllic Lake Lucerne and emerging from an early mediaeval monastery, this small city retains its historic feel today. Lucerne is best known, architecturally, for its baroque churches, mediaeval ramparts and the Early Renaissance-style Ritterscher Palace.
Philippine and Indian Cities Offer Sure-Fire Architectural Tours
Nine out of ten architectural sites in Quezon City, Philippines, have 4.5- or 5-star ratings, making this the strongest Asian city for architecture. As a planned city, Quezon was designed in the 1930s to centre on a "big quadrangle in the heart of the City" from which "four avenues radiated toward the outskirts with rotundas placed on the four corners, the largest being a 26-hectare elliptical centre, now known as the Quezon Memorial Circle." At the heart of this park is the art-deco Quezon Memorial Shrine, an extraordinary 66-metre-high sculpture atop the mausoleum of the city's eponymous founder, designed by architect Federico Ilustre.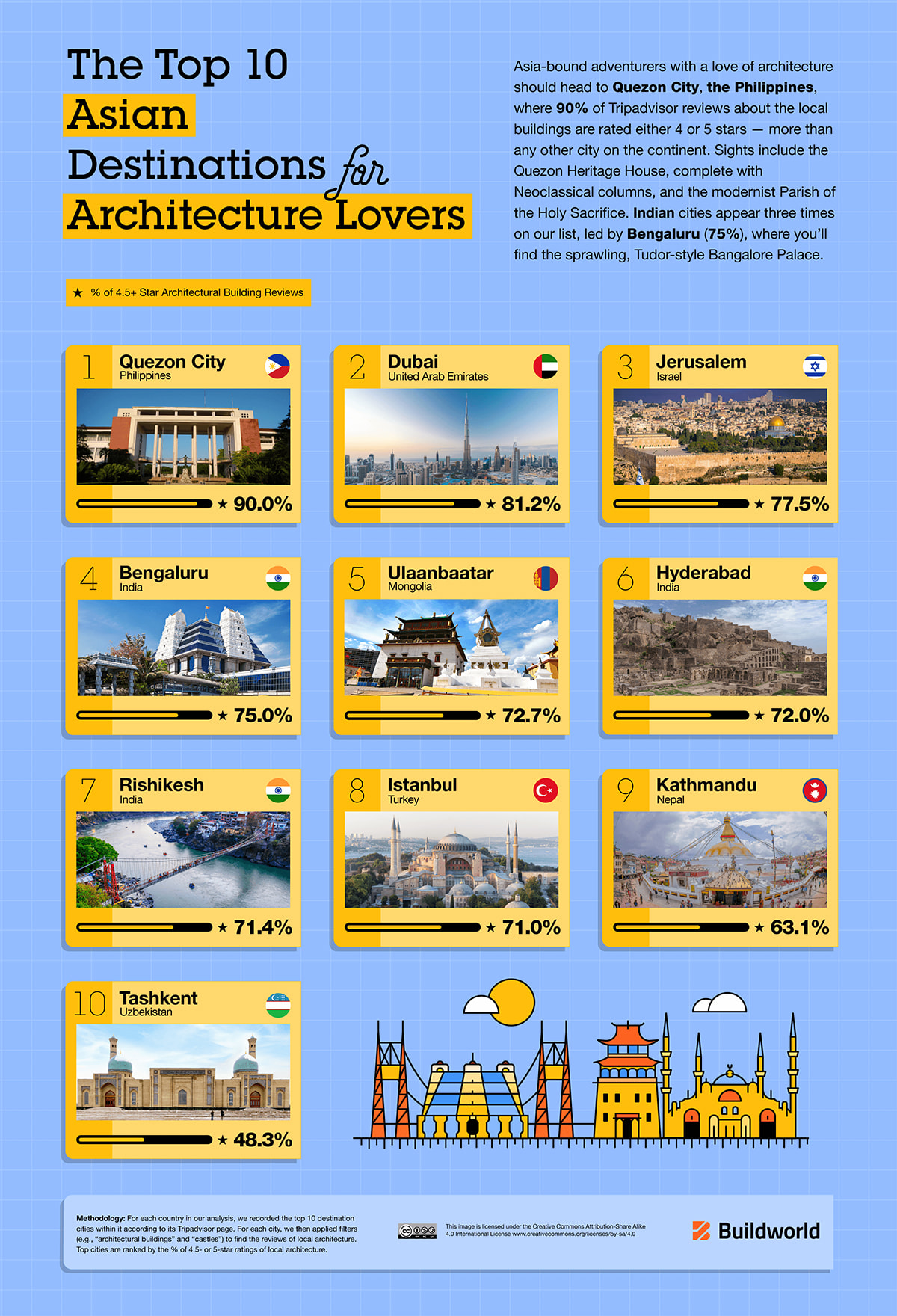 Click here to see the image in full size
India is the best-represented country in Asia, with three Indian cities making the Asian top ten. Three-quarters of the architectural attractions in Bengaluru, capital of the country's southern Karnataka state, are rated 4.5 or 5 stars. Most unusual of all is the Gavi Gangadhareshwara Temple, a "rock-cut architectural marvel" with an Indiana Jones-style twist: "Every year on the day of Makara Sankranti, the evening sunlight spreads over the intricate monolithic sculptures and illuminates the Shiva linga inside," reports Culture Trip.
Building Inspiration
Cutting a stone monolith that's struck by sunlight only on deliberately allotted days of the year might be a step too far for your home renovation project, but the world's greatest and most diverse architecture can help to raise your DIY ambitions and envision changes you might never have otherwise dreamed up. Whether taking a break from the shed to wander your neighbourhood or planning a holiday away from the paint tins, consider what the sights you see might inspire around your home.
You can check our full rundown of the best holiday destinations for architecture lovers in the interactive table below.
METHODOLOGY & SOURCES
For every country on Tripadvisor that has a destinations list on the main country page (e.g., Chile), we recorded the 10 most popular destination cities.
For each city, we then applied all of the following filters:
Architectural buildings
Castles
Churches and Cathedrals
Sacred and Religious Sights
Ancient Ruins
Bridges
We then recorded the star ratings for all of the architectural buildings and, after removing results with fewer than five reviews, calculated the percentage of 4.5- and 5-star attractions for each place.
This analysis is correct as of July 2023.
Related Articles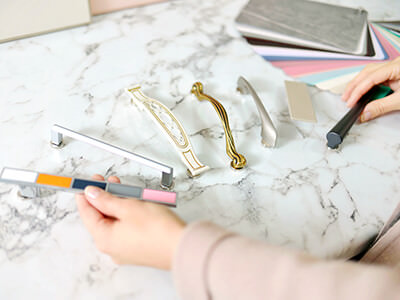 Posted On
6th October 2021